Location
Walsh University
2020 E Maple St
North Canton, OH 44720
Description
Walsh University
Institute for the Study of the Intelligent Community
Inaugural Symposium
October 25, 2012
Seizing Our Destiny:
New Models for Re-energizing Our Communities, Our Schools, Our Economies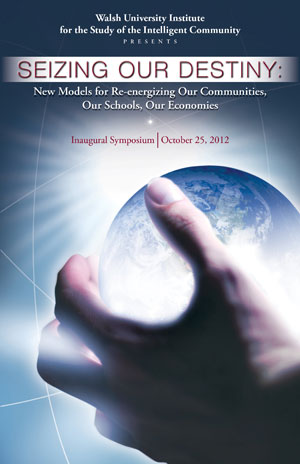 Walsh University will welcome the new international Board of Advisors and launch the Institute's inaugural Annual Symposium at the site that will anchor the first resource center for the Intelligent Community movement in the U.S.
Thursday October 25, 8 AM – 11:00 AM Workshop (Free)
Seizing Our Destiny: Imagining New Models for Educating Our Communities
Barrette Business and Community Center
Participants will be inspired by game-changing ideas of TED-Ed director Logan Smalley, The Third Teacher's Christian Long, and Riverside California's Ramona High School in a dynamic solutions-driven exploration of "A World Without Schools"
TED-Ed is the newest initiative of the wildly popular TED video series and conferences that is evolving collaboratively to assist educators in the delivery of the world's most awesome ideas and lessons.

Riverside, CA, 2012 Intelligent Community of the Year, boasts the first comprehensive public high school in California, and the third in the nation, to go all digital, replacing several hundred dollars worth of textbooks for each student with a single android tablet computer and transforming learner relationships.

Christian Long, Cannon Design and The Third Teacher Vice President, is an educational strategist assisting communities around the world in the visioning and design process.
Thursday October 25, 11:30 AM – 1:00 PM Keynote & Luncheon ($25)
Seizing Our Destiny: Getting a Grip on the World Economic Shift
Barrette Business and Community Center

Dr. Norman Jacknis, Director, Cisco's IBSG Public Sector Group (the company's open innovation and strategic advisory group), is a globally recognized expert in government innovation and transformation. Government Technology Magazine selected him as one of the nation's "Top 25 Doers, Dreamers and Drivers who, using technology … broke bureaucratic inertia to better serve the public." At Cisco he has worked extensively and in-depth with the National Association of Counties and the US Conference of Mayors. For the Mayors, he is developing a strategy for the economic viability of American cities in 2030. In addition to his work on economic development, he has also worked with governments on the creation of collaborative environments for citizens to deliver public services.

Thursday October 25, 2012 1:30 PM – 3:00 PM … in the round (Free)
Seizing Our Destiny: The Triple Helix Model for Transforming Local
Economies
Birk Center for the Arts
In a fun, open and interactive style, Institute panelists Mayor Dan Mathieson, Stratford Ontario, CIO Steve Reneker, and Case Western Reserve VP Lev Gonick will weigh in on the critical roles and collaborative strategies of government, business and education that are paramount to re-energizing communities for our global knowledge economy. Participants, along with other ICF thought leaders from around the world, will be encouraged to engage in the conversation. Louis Zacharilla, Founder of the Intelligent Community Forum (ICF), will moderate the discussion.

Dan Mathieson has been the Mayor of Stratford Ontario (an Intelligent Community Forum Top 7 Community) since 2003. Mr. Mathieson is on the Advisory Board of the University of Waterloo-Stratford Campus, a Canadian Centre of Excellence for Digital Media; a founding Director of the Stratford Institute for Digital Media; Chair of the City of Stratford ICF Smart City Committee; a board member of the Festival Hydro and Rhyzome Networks, the Stratford Shakespeare Festival and Kings University College at the University of Western Ontario. He is an entrepreneur in various sectors, including software development and strategic planning, and is a noted speaker on Smart City growth and economy for digital development.

Steve Reneker is the executive director of SmartRiverside, a non-profit charged with making the city an incubator and economic hub for start-ups. Taking the reins as CIO in 2004 and using his unique dual role, he collaborated with local businesses and educational institutions to solidify Riverside as a digital destination. Since 2006, Riverside has topped eRepublic's Digital Cities Survey, which recognizes technical excellence. For two consecutive years Riverside was named to the ICF Top 7 and this year was awarded Intelligent Community of the Year as a result of competition with over 400 communities around the world.
Lev Gonick is Vice President for Information Technology Services and Chief Information Officer at Case Western Reserve University in Cleveland, Ohio. Lev is co-chair of the CIO Executive Council's higher education committee and co-chair of Cisco's Higher Education Executive Exchange. In 2004 Lev and Case Western Reserve University founded what is today known as OneCommunity, the award-winning regional community network now reaching 22 counties in Northeast Ohio. He received the 2010 National Association of Telecommunications Officers and Advisory (NATOA) annual award for Community Visionary of the Year. In 2009 Case Western Reserve University began extending gigabit fiber to the home in Cleveland's inner city.
For more information, please contact Karen Khourey, (330) 490-7111 or kkhourey@walsh.edu.
Limited space available. Register by 5 pm on October 22, 2012.
Details are also available on the Walsh University Institute for the Study of the Intelligent Community Facebook page.
This event was made possible through the generosity of: