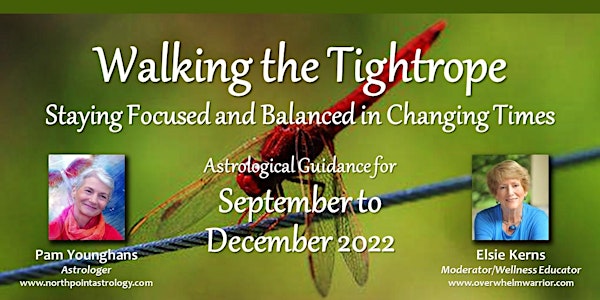 Walking the Tightrope ~ Staying Focused and Balanced in Changing Times
Walking the Tightrope ~ Staying Focused and Balanced in Changing Times. Astrological Journey from September-December with Pam Younghans
Refund Policy
Contact the organizer to request a refund.
Eventbrite's fee is nonrefundable.
About this event
Walking the Tightrope!
Astrological Guidance for Sept.-Dec. 2022
With Astrologer Pam Younghans
And Moderator Elsie Kerns
Airing live and recorded for replay
Wednesday, September 14, 2022
4 pm PDT | 5 pm MDT | 6 pm CDT | 7 pm EDT | 11 pm GMT
75-minute class | $27 USD
WALKING A TIGHTROPE requires focused attention, a good center of gravity, and, of course, calmness and courage! It also is important to keep the body relaxed and to look straight ahead – not down, and not at the rope. Other vital instructions include taking small steps and to keeping the knees slightly bent, both of which enable your body to more easily shift its center of balance as needed.
All of these skills will be essential to remember and use as we navigate the last four months of 2022!
During this 75-minute "Walking the Tightrope" Zoom webinar, astrologer Pam Younghans will guide us on a journey through the rest of the calendar year. She will describe the planetary influences we'll be working with, and pinpoint specific times when the energies will be the strongest.
The main astrological highlights of these four months are:
• The return of two powerful aspects from the past: the contentious Pluto-Eris square (2020-2021) and the socially disruptive Saturn-Uranus square (2021)
• Two life-changing eclipses in October-November: a partial Solar Eclipse in Scorpio that is conjunct Venus, and a very potent total Lunar Eclipse in Taurus that closely aspects radical Uranus, authoritative Saturn, Venus, Mercury, and the nodal axis
• An emphasis on Gemini themes of communication, travel, and information sharing: Mars goes retrograde in Gemini in late October and a pivotal Gemini Full Moon occurs in early December
This webinar is for everyone, whether you are a newcomer to astrology or have spent years in study. Before the class airs, you will receive aspect calendars for September-December so that you can use them for notetaking. And if you are unable to attend live, no worries! Everyone who registers will receive links to the replay and all support materials within 24 hours after the class airs.
WE HOPE YOU CAN JOIN US! If you have any questions about registration or payment options, please contact moderator Elsie Kerns at elsie@wellnesswithelsie.com or call 856.988.7426 (EST)
SEE YOU ON SEPTEMBER 14!