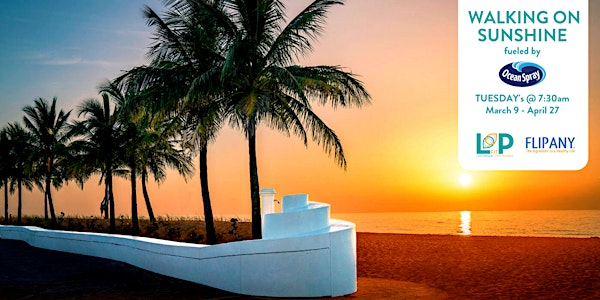 Walking On Sunshine - Walking Group
Lets get walking! Join us every Tuesday from March 9 – April 27 for the Walking On Sunshine walking group, fueled by Ocean Spray.
When and where
Location
Las Olas Oceanside Park 3000 East Las Olas Boulevard Fort Lauderdale, FL 33316
About this event
Start your morning off with guided breathing exercises to awaken and warm up your muscles before embarking on a 30-minute walking route. Be prepared to vary your pace to elevate your heart rate, increase cardiovascular endurance and have some fun in the sun.
Over the course of 8-weeks, we will be tracking our steps. So, whether you utilize a fit bit, apple watch or app on your phone we will set weekly goals! Post walk enjoy a light stretch to reduce muscle tightness and prevent injury before joining the group for coffee, smoothie or refreshments provided by our sponsors and discounts off local restaurants.
INSTRUCTOR: Arkell Mokler
WHAT TO BRING
Sunscreen
Hat & Sunglasses
Water bottle
Phone, pedometer, or other fitness tracker *not required
WHAT TO WEAR
Breathable, lightweight clothes or exercise clothing
Comfortable walking or tennis shoes * no flip flops or sandals
Hat, visor or sunglasses to protect from the sun
COST: FREE, compliments of sponsor Ocean Spray
EACH CLASS IS LIMITED TO 40 PARTICIPANTS
INFORMED CONSENT AND ASSUMPTION OF RISK AND RELEASE OF LIABILITY
This Informed Consent and Assumption of Risk and Release of Liability is material to the Group Fitness Agreement and is incorporated herein by reference. Participant certifies that he/she is of adequate physical condition to participate in physical exercise and warrant that he/she has no medical condition which would prevent participation in physical fitness activities.
Participant certifies that he/she is voluntarily participating in the fitness class and assumes all risk of physical injury, whether minor, severe, or otherwise.
Participant certifies that he/she understands not all movements must be performed and will disclose to Instructor whenever any suggested movement causes distress beyond Participant's threshold
Participant certifies that he/she will not hold The City of Fort Lauderdale, LO/OP FIT, rAv Communications, sponsor American Express, FLIPANY, or its Trainer(s), agents or subsidiaries, liable for any physical injury, whether minor, severe, or otherwise that result from Fitness Sessions.
Any recommendation for changes in diet, including the use of food supplements, weight reduction and/ or body building enhancement products are entirely your responsibility and you agree to consult a physician prior to undergoing any dietary or food supplement changes.
Participant acknowledges, he/she is responsible for any and all personal property brought into the class space or left in their vehicle.
ACKNOWLEDGMENT: I AM IN GOOD PHYSICAL AND MENTAL HEALTH AND DO NOT SUFFER FROM ANY HANDICAPS OR PHYSICAL CONDITIONS THAT COULD CONSTITUTE A DANGER TO MYSELF OR OTHERS AS A RESULT OF MY PARTICIPATION IN THE ACTIVITIES, AND I ACCEPT TO PARTICIPATE IN THE ACTIVITIES FREELY.
PROMOTIONAL MATERIAL / PHOTO WAIVER
I give my permission to use my likeness, image, voice, and/or appearance as such may be embodied in any pictures, photos, video recordings, audiotapes, digital images, and the like, and in such.
I hereby waive any right to inspect or approve the finished photographs or electronic matter that may be used in conjunction with them now or in the future, whether that use is known to me or unknown, and I waive any right to royalties or other compensation arising from or related to the use of the image.
I acknowledge I am 18 years of age or older and I am competent to contract in my own name. I have read this release before signing below, and I fully understand the contents, meaning and impact of this release.
I understand that I am free to address any specific questions regarding !his release by submitting those questions in writing prior to signing, and I agree that my failure to do so will be interpreted as a free and knowledgeable acceptance of the terms of this release.
CODE OF CONDUCT / DAMAGES
rAv Communications, the City of Fort Lauderdale Parks & Recreation Department and LO/OP Fit Instructors ( "THE ORGANIZERS" ) are committed to the health, safety, and welfare of the community and each of the participants in their classes, and will not tolerate unreasonable, threatening, obscene, harassing, indecent or illegal behavior. Participants who do not observe the code of conduct or abuse equipment in any fashion will be asked to leave. THE ORGANIZERS have the right to judge behavior and respond accordingly. This right includes, but is not limited to termination of class and/or membership without refund to any member engaging in unacceptable behavior. The member shall pay for any damages to City of Fort Lauderdale property which results from the willful or negligent conduct of any participant, participant's guest, or participant's dependent child. Not all rules and regulations are listed in this agreement.
ORGANIZER reserves the right to add, change or remove rules, conditions of membership and date and time of classes.
BROWARD COUNTY / CITY OF FORT LAUDERDALE COVID COMPLIANCY
The safety of class participants, instructors and the community is of utmost priority. In such, safety protocols have been determined and agreed upon with the City of Fort Lauderdale and Broward County. Although open-air, attendees are required to wear facial coverings at all times within the event space, with the exception when seated / standing in their designated class spaces, while actively engaged in the class, and in areas clearly marked for eating or drinking. Hand sanitizer will be readily available and there will be a minimum of 6' between all attendees. Attendees not adhering to the policy may be asked to leave.
COVID WAIVER
I acknowledge the contagious nature of the Coronavirus/COVID-19 and that the CDC and many other public health authorities still recommend practicing social distancing.
I further acknowledge that THE ORGANIZERS has put in place preventative measures to reduce the spread of the Coronavirus/COVID-19.
I further acknowledge that ("THE ORGANIZERS") cannot guarantee that I will not become infected with the Coronavirus/Covid-19. I understand that the risk of becoming exposed to and/or infected by the Coronavirus/COVID-19 may result from the actions, omissions, or negligence of myself and others, including, but not limited to, salon staff, and other salon clients and their families.
I voluntarily seek services provided by THE ORGANIZERS and acknowledge that I am increasing my risk to exposure to the Coronavirus/COVID-19. I acknowledge that I must comply with all set procedures to reduce the spread while attending my appointment.
I attest that:
I am not experiencing any symptom of illness such as cough, shortness of breath or difficulty breathing, fever, chills, repeated shaking with chills, muscle pain, headache, sore throat, or new loss of taste or smell.
I have not traveled internationally within the last 14 days.I have not traveled to a highly impacted area within the United States of America in the last 14 days.
I do not believe I have been exposed to someone with a suspected and/or confirmed case of the Coronavirus/COVID-19.
I have not been diagnosed with Coronavirus/Covid-19 and not yet cleared as non-contagious by state or local public health authorities.
I am following all CDC recommended guidelines as much as possible and limiting my exposure to the Coronavirus/COVID-19.
I hereby release and agree to hold THE ORGANIZERS harmless from, and waive on behalf of myself, my heirs, and any personal representatives any and all causes of action, claims, demands, damages, costs, expenses and compensation for damage or loss to myself and/or property that may be caused by any act, or failure to act, or that may otherwise arise in any way in connection with any services received from THE ORGANIZERS.
I understand that this release discharges THE ORGANIZERS from any liability or claim that I, my heirs, or any personal representatives may have against the salon with respect to any bodily injury, illness, death, medical treatment, or property damage that may arise from, or in connection to, any services received from THE ORGANIZERS. This liability waiver and release extends to THE ORGANIZERS together with all owners, partners, and employees.
BY COMPLETING THE REGISTRATION , THE PARTICIPANT ACKNOWLEDGES HAVING READ AND UNDERSTOOD THIS AGREEMENT, THAT HE/SHE IS SATISFIED WITH THE TERMS AND CONDITIONS. A COPY OF THIS AGREEMENT WILL BE SENT TO THE EMAIL ADDRESS INCLUDED IN REGISTRATION AN SHALL BE OF THE SAME FORCE AND EFFECT AS THE DELIVERY OF AN ORIGINAL DOCUMENT.