Sales Have Ended
Ticket sales have ended
We are so honored and excited that you have chosen to attend the Walking in Freedom! Women's Retreat. This will be an intimate time for us to grow spiritually, build relationships, refresh and renew our spirits, be encouraged and equipped with the word of God, and most importantly, connect with our Heavenly Father. We are counting down the days! Thank you, Retreat Staff
Sales Have Ended
Ticket sales have ended
We are so honored and excited that you have chosen to attend the Walking in Freedom! Women's Retreat. This will be an intimate time for us to grow spiritually, build relationships, refresh and renew our spirits, be encouraged and equipped with the word of God, and most importantly, connect with our Heavenly Father. We are counting down the days! Thank you, Retreat Staff
Description
So what exactly is a retreat? Well, according to Merriam-Webster, a retreat is a period of group withdrawal for prayer, meditation, study, or instruction under a director.
My mission has always been to encourage women while motivating them to be all that God has called them to be. The same thing applies for this retreat. At the Walking in Freedom! Retreat you will be encouraged and motivated to be the unique and beautiful woman God has delicately and magnificently designed you to be. You will be refreshed and energized to serve God passionately and faithfully. You will be equipped with practical yet biblical principles for walking this tough Christian journey.
The retreat's theme is EMBRACE. It's time to embrace your freedom! I am inviting a few women (ages 18+) for a weekend getaway where we will F.O.C.U.S. on three components to living a life of freedom:
EMBRACE

the freedom Christ gives you.

EMBRACE who you are in Christ.

EMBRACE

your

own

unique journey.
We have secured our dates and location! Walking in Freedom! Women's Retreat 2017 will be Friday, September 22nd – Sunday September 24th. Your total cost for this unforgettable getaway will be $150.00. Registrants who make payment in full before April 30th will receive an autographed copy of bestseller, Walking in Freedom! A Thirty-Day Devotional Journey for Women.
We will spend three days and two nights at Trinity Pines Conference Center, a Christ centered setting, in the Faith Lodge facility.

It has four bedrooms with three sets of twin size bunk beds and a queen size bed in each bedroom (queen beds will be reserved for the elderly). Each sleeping area sleeps 6-7 for a total capacity of 24-28 guests. Each bedroom has a private restroom.
This will be an intimate time for us as women to grow spiritually, build relationships, share our journey, have our spirits refreshed and renewed, to be encouraged and equipped with the word of God, and most importantly, connect with our Heavenly Father.
If you're ready, Register Now! Then, begin making plans to experience the Walking in Freedom! Women's Retreat.
---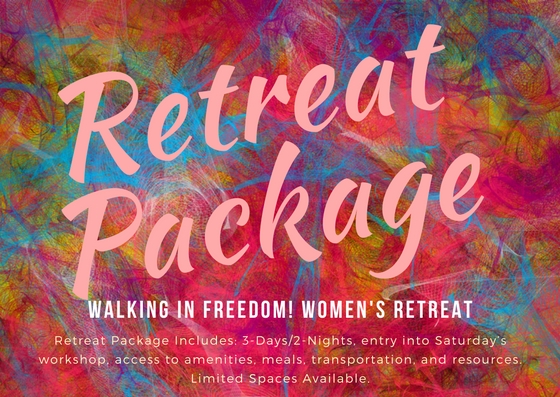 Retreat Package Fee Includes: 3-Days/2-Nights, Walking in Freedom! Workshop, Meals, Transportation and Resources. Limited Spaces Available.
Not sure if you should attend this retreat? Scroll down to see if this retreat is for you.
Payment Option Available: $50 Deposit due by April 30th. This deposit will hold your spot and is non-refundable. $100 remaining balance MUST be paid by July 1st or you will forfeit your seat and $50.
Retreat Package Fee increases to $200 after July 1, 2017.

**All monies are non-refundable.
---
THIS RETREAT IS FOR YOU IF……….
You're NOT AFRAID to be transparent, honest, and real (which may be a little uncomfortable).

You earnestly believe GOD IS CALLING

you to go into uncharted territories, to launch out in the deep, to stretch your faith and trust Him more.

You have a strong desire to make a POSITIVE AND LASTING IMPACT

in this world and the people around you.

You're TIRED

of being and feeling stuck. You're tired of getting distracted by people and stuff that doesn't really matter. You're tired of doing the same thing and getting the same results. You're tired of being sick and tired.

You're ready to STOP

reliving past hurts, past failures, past disappointments, and past mistakes.

You need COURAGE

to move forward and be the mighty woman God has created you to be.

You need ENCOURAGEMENT AND MOTIVATION

to keep doing the work of the Lord.

You know you were CREATED TO DO SOMETHING AMAZING FOR GOD

, but you don't know what it is and you need help figuring it out what that

something

is.

You're ready to LET GO

of unforgiveness, bitterness, depression, and all that negative energy.

You're ready to ENJOY LIFE

, the present and get excited about your future with Christ.

You're ready to CONNECT WITH OTHER UNIQUE WOMEN

with different backgrounds and professions who have a desire to live a life of freedom with Christ and for Christ.

You're ready to EMBRACE

your freedom in Christ and grow deeper in your relationship with God.
---
SHARE!! This retreat will be even more enjoyable when you bring a friend or two! If you have a family member and/or friend who would like to attend this retreat, please share this with them. Have them register soon. Remember, this will be an intimate setting where 28 women will be free and comfortable to share and learn from one another. They will have an opportunity to experience this three days and two nights Walking in Freedom! Retreat. It's going to be AMAZING!!
SO REGISTER NOW!! Limited space.
Have questions? Email retreat@marthamary3.org or info@thesanctuarycfc.org
We are looking forward to an exciting time!
Retreat Staff