Walk, Bike, Scoot and Drive - What Changes are coming to Winchester and Stevens Creek in the Tri-Village area over the near and long-term?
About this event
With the completion of several high-profile projects (including The Reserve and Valley Fair) imminent and several other projects just starting (e.g. Santana West), what changes can we expect in the near-term and long-term for the road infrastructure along Stevens Creek and Winchester, in the WNAC area? What we can do as citizens to influence the direction of the changes?
This meeting will be a great opportunity to hear directly from San Jose's Department of Transportation and others about the near-term and long-term changes that are coming to the Tri-Village (Winchester/Santana Row/Stevens Creek) area.
Confirmed Speakers Include:
Martin Fatooh, Community Relations/Government Partnerships, BIRD
John Brazil Active Transportation Program Manager, City of San Jose, Department of Transportation
Doug Moody, Transportation Planner, City of San Jose
Preliminary Agenda
Introductions (5 min)
Councilmembers Update (15 min)
The Bigger Picture Vision of the Tri-Village Area (15 min)
New Mobility Alternatives (10 min)
Road/Sidewalk infrastructure changes (long-term, short-term & medium-term) (45 min)
Next steps
Please RSVP so we know how much pizza to order!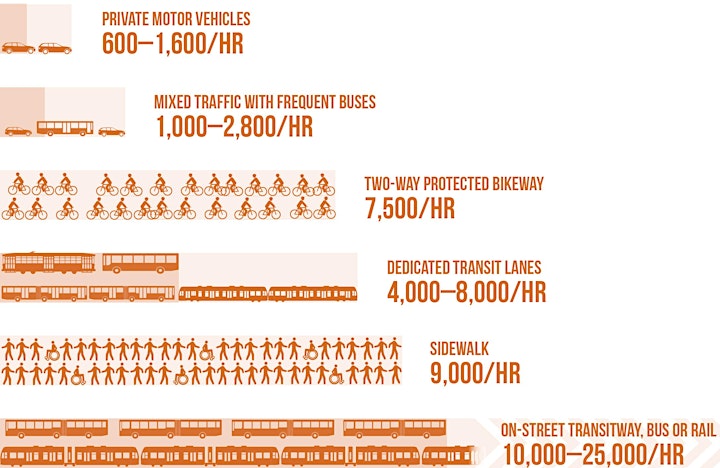 Image Courtesy of NATCO, https://nacto.org/publication/transit-street-design-guide/introduction/why/designing-move-people/
Organizer of Walking, Biking, Scooting and More on the Stevens Creek/Winchester Corridor
Vision: Ensure quality of life and economic development in the Winchester region through innovation.
The Winchester Neighborhood Action Coalition (WNAC) represents the interests of the neighborhoods that parallel Winchester Boulevard from Hamilton Avenue to Hedding/Pruneridge and between San Tomas Expressway and I880. This includes the Hamann Park Neighborhood, Westside Property Owners Association, Eden Neighborhood, Lynhaven Neighborhood, Magliocco_Huff Landlords Association, Winchester Orchard Neighborhood, Winchester Ranch Senior Mobile Home Park, South of Forest Neighborhood, North of Forest Neighborhood, Cory Neighborhood, Forest-Pruneridge and homes in the Santana Park and Santana Row Neighborhoods.