Walker Weekend - A Zombie Survivor Themed Immersion Event

Saturday, May 25, 2013 at 4:00 PM

-

Monday, May 27, 2013 at 10:00 AM (EDT)
Event Details
TICKET SALES ARE CLOSED. WE ARE SOLD OUT OF SURVIVOR PASSES!
The premise of this party is complicated. Please read the FAQ page on www.ElegantlyKinky.com BEFORE purchasing your ticket.
~~~~~~~~~~~~~~~~~~~~~~~~~~~~~~~~~~~~~~~~~~~~~~~~~~~~~~~~~~~~~~~~~~~~~~~~~~~~~~

The Zombie Apocalypse has begun. You are a Survivor. Maybe you've spent the start of the apocalypse locked inside a mall, or maybe alone hiding in your apt. Somehow, some way you've decided to make the perilous journey to Mistress Zeneca's Dionysian Sanctuary for merriment and comradery.
You will be greeted at the door by an armed guard (nerf-gun) and must speak the password for entrance. Dressed in your survivor gear, you're ready to share your best zombie survival tips with others. Once your identity has been cleared, Mistress Zeneca welcomes you with open arms to share the bounty of her bunker.
This is an immersion event, designed to give guests a taste of what surviving a Zombie Apocalypse might be like. Experience living in captivity with the sounds of zombie moans just outside the window. This event will primarily be lit by candlelight. Guests receive a souvenir survival candle which they must carry with them throughout the event to light their way.
Mistress Zeneca's personal challenge will be to prepare meals using only canned/dried/reconstituted foods, supplemented only with homegrown veggies. Meals may include: MREs, unlabeled cans, various soups, dehydrated fruits, etc. Sunday's cannibal Buffet may feature Ribs, Leg bones, other body meats, and a prosciutto covered skull.
Immersion events like this one are part live action role play and part casual movie marathon. You DO NOT create a character - You play yourself, just a bad ass version of yourself that has survived 1 year into the apocalypse. Guests must bring/wear things that correspond to the party premise. Details on the FAQ page. NO FIREARMS or look alikes.
There are three major games/activities on each day of Walker Weekend.
1. Mistress Zeneca's Zombie Combat Conditioning Class - This is a circut style workout class meant to build the muscles needed to defend yourself from Zombies. Get fit and stomp skulls.
2. NERF Gun Zombie Target Practice -  Bring your NERF gun and practice shooting our Zombie targets. This skill may come in handy later.
3. ZOMBIE BURST - All guests that want to be transformed into a zombie must first die during the party. There are many ways to die in an apocalypse. Once a prospective zombie is dead, he/she retires to the basement lounge for zombification. During a designated 3 hour window, the zombies burst forth from the basement and attack people. This is a timed event. Details and rules on the FAQ page.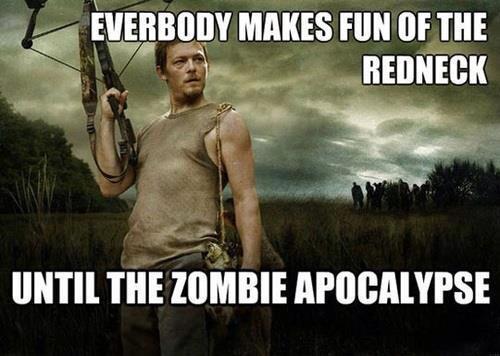 Schedule of Events
Saturday, May 25th
4pm - Start and Check-in
5pm - All Screens - The Walking Dead 1st Episode
6pm - Night of the Living Dead - Riff Trax Edition
6:30pm - Zombie Combat Conditioning
8pm - 28 Days Later
8pm - MRE Dinner is Served
8:30pm - NERF Gun Zombie Target Practice
10pm - All prospective zombies participate in the Suicide Pact. Drink the Kool-aid and die, to be reanimated as a zombie later.
10pm - 28 Weeks Later
12pm - All Screens - CDC episode of the Walking Dead
10pm-1am (to be completed by 1am) - ZOMBIE BURST
1am - Wild Zero Drinking Game
2:30am - Fido
Sunday, May 26th
4pm - Start and Check-in
5pm - Adventure Time Zombie episodes
5:30pm - All Screens - Dead Alive
6pm - Zombie Combat Conditioning
7:30pm - Zombieland
8pm - NERF Gun Zombie Target Practice
9pm - Cannibal Buffet Dinner is Served.
9pm - All Screens - 2nd Season Finale of the Walking Dead
10pm - Dawn of the Dead
9pm-11pm - All prospective zombies to die in unique ways. By 11pm, all deaths should be complete and participants in the basement lounge for zombification.
12pm - All Screens - Dead Snow
11pm-2am (to be completed by 2am) - ZOMBIE BURST
2am - Shawn of the Dead
If you have any questions, please contact Mistress Zeneca directly using the Contact Us link at www.ElegantlyKinky.com, or her fetlife.com account (ElegantlyKinky), or by contacting her on Facebook.
When & Where

The Dionysian Sanctuary
South Philly - Address given once ticket is bought
76fwy - Passyunk Ave. exit.
Philadelphia, PA 19145


Saturday, May 25, 2013 at 4:00 PM

-

Monday, May 27, 2013 at 10:00 AM (EDT)
Add to my calendar
Organizer
Philadelphia High Protocol - Mistress Zeneca Events
We are a kink community based on the tenants of Courtesy, Etiquette, Respect, and Attentiveness - it is our duty to extend our hand and hearts to those that desire to participate but may not have the financial means. As Ambassadors of LOVE, we seek to illustrate through actions, that Philadelphia is a wonderful place to travel to and experience the fetish/BDSM community.
Walker Weekend - A Zombie Survivor Themed Immersion Event