Event Information
Location
Golden Gate Park
Intersection: Martin Luther King Jr Dr @ Stow Lake Dr, San Francisco, CA 94122
San Francisco, CA 94122
Description
NOTE: If the Eventbrite map directs you to the boat house—that is wrong. Use the meeting directions from organizers below.
JOIN THE AUTHORS of the hot new SF Guide, Walking San Francisco's 49 Mile Scenic Drive, for a 2.8-mile hike along one section of

the 49

Mile Scenic Drive:

Walk #11: The Eastern Entertainment End of Golden Gate Park.
BEGIN: We'll begin with a walk around Stow Lake, then skip along past the remnants of the 1894 MidWinter International Expo, such as the deYoung Museum and Japanese Tea Garden. Further on, we'll pass the AIDS Memorial Grove, and the country's oldest municipal lawn bowling club, and the new Kezar Stadium. But what did Park designer John McLaren think of all of this development? We'll tell you as we share a few tidbits of the most-likely-true history and fun factoids we discovered while researching the guidebook.
END: We at the Panhandle (on Stanyon) and then set you free to walk back to the beginning with us or head out to Haight Ashbury on your own.
Difficulty: Mostly flat terrain, but begins with a slight hill.

Well-behaved children and dogs welcome

Books available for purchase and autographing at event or walksf49.com

(If RAIN, or some act of God, cancels the walk, we'll inform attendees via email.)
NOTE: The 49 Mile seagull sign route marker has been stolen so... look carefully. We meet at the intersection where Stow Lake Dr runs into Martin Luther King Dr (on MLK between Crossover Drive (19th Av) and the Japanese Tea Garden—see our map immediately below: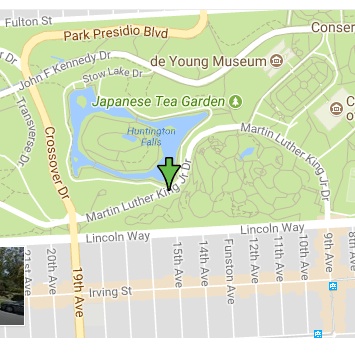 Save
Save
Date and Time
Location
Golden Gate Park
Intersection: Martin Luther King Jr Dr @ Stow Lake Dr, San Francisco, CA 94122
San Francisco, CA 94122