The AHMED siblings are back with their 2nd annual Walk With A Purpose event! Come walk and capture a glimpse of nature and amazing energy.
About this event
We are back with our 2nd annual Walk With A Purpose Event. Thank you to everyone who came out and those who donated last year it was an amazing experience.
My name is Nitika Ahmed, my brother Salvon Ahmed and I thought it would be great to put an event together for the community. Please join us on Saturday June 26th, 2021 at green lake park in north Seattle as we Walk With A Purpose. The purpose of this event is to shift the energy and bring nothing but self love, gratitude and positive vibes back into your life. We would like everyone to bring a sign that says
1. something they love about themselves
2. something they are grateful for
3. or a positive affirmation
Please spread the word bring your sisters, brothers, cousins aunties, nephews , moms, dads, uncles, grandparent, pets everyone is WELCOME!!!! Lets Make History. If you have any questions feel free to reach out to me on IG @Barbie_girl1111 or Salvon on IG @time2takeiteassyy
WE WILL MEET AT THE BASKETBALL COURT!! Look for the purple balloons
FACE MASKSSS ARE REQUIRED THANK YOU !!! we hope to see y'all soon
IF YOU GET LOST CALL TIKA @425-891-7176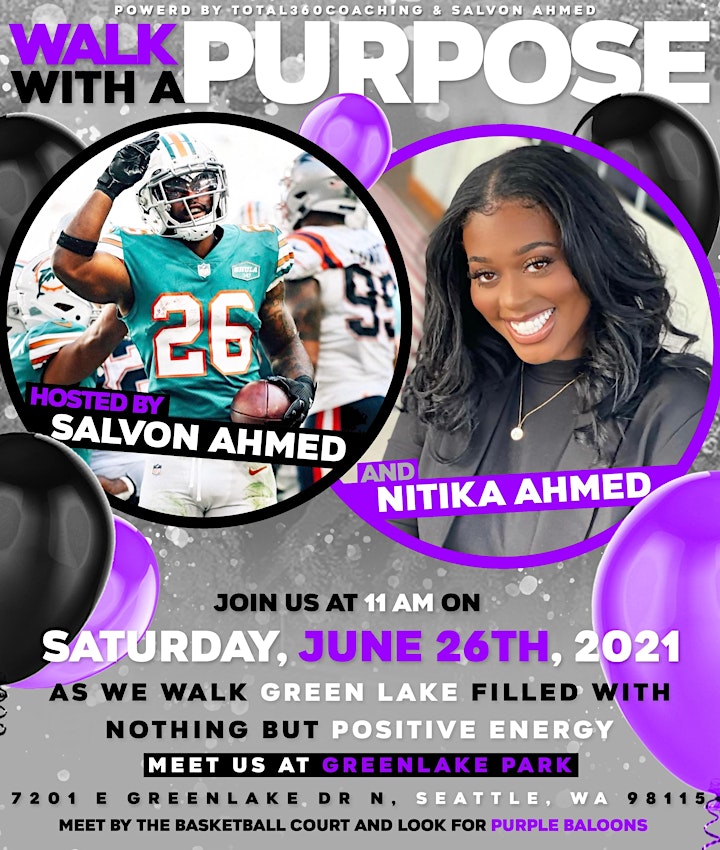 Organizer of Walk With A Purpose
Hello everyone my name is Nitika Ahmed I am a recent graduate of Clark Atlanta University where I majored in psychology. I am the owner of Total360COACHING. I am a certified life coach and believe in purposeful living, manifestation and the power of change. My journey to purposeful living hasn't been easy. When I was younger I struggled with lack of confidence, lack of self esteem and lack of soul purpose. I have always been goal driven but I was still searching for a purpose. When I found my purpose in life everything started to fall into place. I look forward to sharing my experiences with everyone all around the world and helping them create their own total 360!!!!