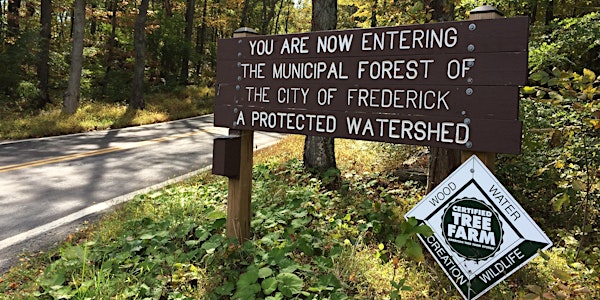 Walk in the Woods: Frederick Municipal Forest
Join us for a hike & talk on what it takes to protect our drinking water & manage a forest (w/ plenty of plant identification in the mix).
When and where
Location
Frederick Municipal Forest 10420 Hamburg Rd Frederick, MD 21702
About this event
How does a city protect its drinking water? Fred Besley knew the answer. He was the first (and longest serving) Maryland State Forester. A century ago, Mr. Besley insisted the City of Frederick set aside land in the watershed to protect the city's drinking water. Luckily for us, the city listened.
Join us on October 16 for a hike in the Municipal Forest of the City of Frederick, Md. Our guide for this 3-mile hike is Jenny Willoughby, the Sustainability Manager of Frederick City. Jen is continuing Mr. Besley's legacy by knowledgeably and responsibly managing the city's watershed. She will talk about the active forest management, the history, and the flora and fauna of the area.
Expect to walk about 3 miles on moderate terrain. Please bring your own water bottle, snacks, and bug spray (if needed).
This event is free but please RSVP.
This hike is part of ICPRB's Walk in the Woods Series produced by the Interstate Commission on the Potomac River Basin.
We will be meeting at the Hamburg Blue Lot (directions below) at 9:00am. Please pay careful attention to the directions because cell service is spotty and it can be easy to get lost.
Each participant will be required to complete the following form (copies will be available at the beginning of the hike but we encourage you to bring a completed copy for each person in your party):
https://www.potomacriver.org/wp-content/uploads/2020/03/Liability-Waiver-and-Medical-Form_2020.pdf
Address for Google Maps: 10420 Hamburg Road, Frederick, Md.
From points south and east:
Follow Route 40 to Gambrill Park Road
Right onto Gambrill Park Road
At the t-intersection, turn right to stay on Gambrill Park Road (left takes you to the Gambrill State Park Tea Room)
Follow Gambrill Park Road through the state park for several miles to Hamburg Road
Turn right onto Hamburg Road
Parking area will be ¼ to ½ mile on the right side—if parking area is full, park on side of road
From Route 15:
Take the Rosemont Avenue exit and head north/west
Rosemont Ave becomes Yellow Springs Road—continue on Yellow Springs
Yellow Springs Road becomes Hamburg Road—continue on Hamburg
Follow Hamburg up the mountain, pass Hamburg Pond on the left
Parking area will be on the left less than ¼ mile from the pond—if parking area is full, park on side of road
From points north:
Take Route 15 to Route 77 heading toward Cunningham Falls State Park
Follow 77 to Catoctin Hollow Road
Turn left onto Catoctin Hollow Road
Turn right onto Mink Farm Road
Mink Farm Road will turn right—stay STRAIGHT onto Tower Road
Follow Tower Road to a Y-junction with Gambrill Park Road, continue straight onto Gambrill Park Road
Follow Gambrill Park Road south to Hamburg Road
Turn left onto Hamburg Road
Parking area will be ¼ to ½ mile on the right side—if parking area is full, park on side of road