About this Event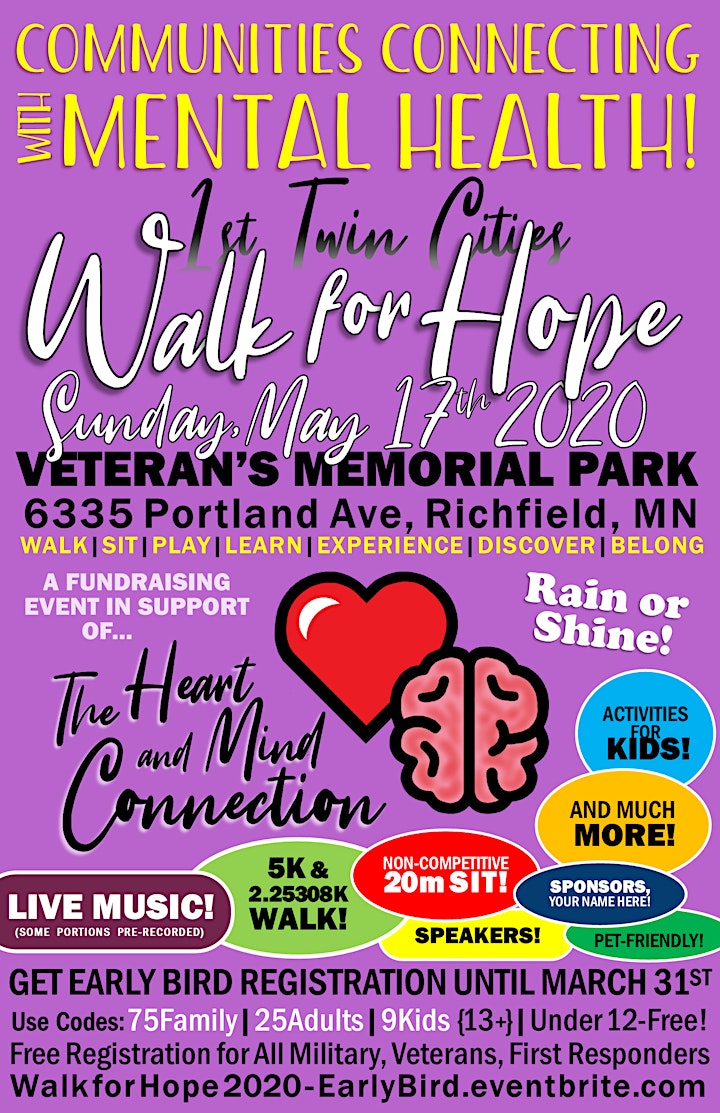 WALK FOR HOPE 2020 IS COMING!
Join us on Sunday, May 17th, for a uniquely fun and moving event to benefit the work of the Twin Cities ONLY all peer-run and owned advocacy and education organization, The Heart and Mind Connection!
ABOUT THE EVENT:
----> 2.020K FUN WALK
----> NON-COMPETITIVE SITTING
----> LIVE MUSIC and COMEDY
----> MENTAL HEALTH & WELLNESS RESOURCE FAIR
----> INTERACTIVE EXPERIENCE "PLAY-GROUND"
----> SO MUCH MORE! (Disclaimer: "More" is a subjective term, meant to describe an amount greater than a previously recognized amount. Please realize that when subjecting this qualifier to a word such as "FUN", one person's personal experience with a prior level of fun could tend to cause their own experience of "MORE Fun" to be adversely skewed, resulting in a disproportionately lower level of "FUN" than others in attendance. Your individual results may vary...please exercise moderation in your expectations of "MORE".)
ABOUT THE SCHEDULE:
9:00am: Check-In and On-Site Registration, Resource Fair
10:00am: Opening Ceremonies, Keynote Speaker
10:30am: Fun Walk & Non-Competitive Sitting Begins!
11:00am-1:00pm: Activities and FUN! ("More" info to come)
_______________________________________
ABOUT THE HEART AND MIND CONNECTION:
The Heart and Mind Connection© is a Peer-run, veteran and woman owned 501(c)(3) non-profit organization dedicated to mental health and substance use recovery, advocacy and awareness. Our mission is to develop connection, foster purpose and empower ourselves and others struggling with hope, through education, suicide prevention programming and legislative activism.
An organization built for those struggling with addiction, trauma, mental wellness and recovery issues, run by those who have lived experiences in all these areas...State Certified as Peer Support Specialists, ready to provide support, guidance and education. To you, your family, and our community, in safe and non-judgmental spaces throughout Minnesota.
A portion of each ticket purchased can be deducted as a charitable contribution under IRS code.
SPONSORSHIP AND VOLUNTEER OPPORTUNITIES!!
Many hands needed to make the load lighter! PLEASE DONATE...
1. Your time! (At the event, or behind the scenes now)
2. Your resources! Water, fruit, airtime, ad space, water, etc. Vendor tables also available.
3. Your capital! Become a sponsor and reap the internal sunshine!! (Ask us how at donate@theheartandmindconnection.org)
4. Your tax-exempt charitable donation! Every dollar goes towards our mission.
5. Your social media space! Copy the poster above and share to Twitter, Instagram, Facebook, LinkedIn...even MySpace. ASK your friend to come along!
For more information, contact: chris@theheartandmindconnection.org