Description
In September of 2011, ArtBridge brought Aleksandar Maćašev's ChromaTweet out of the blogosphere and into the public realm as a 400 foot public art exhibition commissioned as part of the Dumbo Arts Festival, running along Water Street on the scaffolding surrounding historic Empire Stores building. What's with the stripes? Each one is a color tweet, Maćašev's daily moods, feelings and experiences compressed into one piece of information: color.

Grab your friends and join Maćašev and ArtBridge for WALK: ChromaTweet, a guided tour of the two-year-long colorful emotional journey of this unorthodox and creative New York City-based artist on Saturday, July 21, 2012 at 12pm. Maćašev will discuss how the experience of working large-scale and in public has transformed his experience of the project, as well as the ChromaTweet Social Network, scheduled to launch this month.
We will be gathering at the South West corner, where Water Street meets Main Street. Be sure to wear weather appropriate clothes and comfortable walking shoes.
Duration: 1 Hour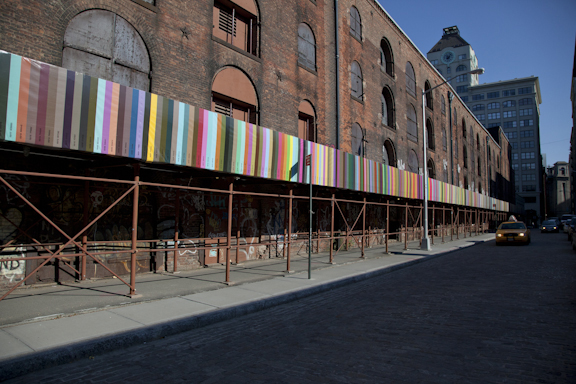 ©Carly Gaebe
Organizer of WALK: ChromaTweet