Walk at Great Falls with Rod Simmons

Saturday, September 27, 2014 from 10:00 AM to 2:00 PM
Event Details
The Potowmack Chapter of the Virginia Native Plant Society invites you to the following field trip, part of our 2014 series "Celebrating the Grasses of VA":
Exploring Native Woodland Grasses and Glades with Rod Simmons
A walk at Bear Island and the Gold Mine Tract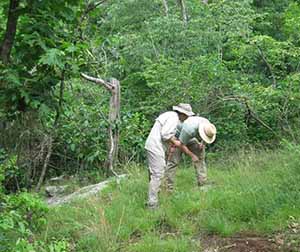 Saturday, September 27
10:00 am to 2:00 pm
Location:  Along the Potomac Gorge near Potomac and Great Falls, Maryland
VNPS programs are free and open to the public,but registration for field trips is required due to limited space.
We'll walk a portion of Berma Road to the southeast trail head into the Gold Mine Tract and up to the bluffs overlooking the Potomac River and the Virginia highlands.  Then along the ridgeline of the southwest-facing, forested bluffs where we should see a variety of woodland grasses.  Near Great Falls, we'll come down out of the Gold Mine Tract and take either Berma Road or the C & O Canal Towpath and Billy Goat Trail along and through Bear Island.
In addition to grasses, both the Gold Mine Tract and Bear Island offer some of the greatest diversity of native trees, shrubs, and wildflowers in the region, as well as uncommon to rare plant communities and scenic views.
Note:  This field trip follows Rod's lecture on the same topic, which will be held at Green Spring Gardens at 7:30 pm on Thursday, Sept. 11.
---
Rod is a plant ecologist, with a background in biology and geology, who has extensively surveyed the flora and natural communities of the mid-Atlantic region, especially the inner coastal plain and piedmont of the greater Washington, D.C. area.  He is a Research Collaborator with the National Museum of Natural History, Smithsonian Institution; a member of the Virginia Botanical Associates; and works closely with the Virginia and Maryland natural heritage programs.  He is a past president of the Botanical Society of Washington, a past president of the Maryland Native Plant Society, and a current board member of the Maryland Native Plant Society and the Virginia Native Plant Society.  He is the Natural Resource Manager for the City of Alexandria.
For more information about our field trip location, visit:
 Image Credits: 
Event Logo:  Long-awned Wood Grass
The Native Plant Nursery LLC
Ann Arbor, Michigan
www.nativeplant.com
Photo: Rob Soreng and Rod Simmons in a graminoid glade. Photo by Lisa Bright.
For questions, please email: vnps.pot@gmail.com.
When & Where

Along the Potomac Gorge near Potomac and Great Falls, Maryland

Great Falls, VA


Saturday, September 27, 2014 from 10:00 AM to 2:00 PM
Add to my calendar
Organizer
Virginia Native Plant Society, Potowmack Chapter
The Virginia Native Plant Society (VNPS) was founded in 1982 as The Virginia Wildflower Preservation Society. It is a statewide organization with approximately 2000 members supported primarily by dues and contributions. Membership is open to anyone, amateur or professional. Its purpose is to further appreciation and conservation of Virginia's native plants and habitats. Incorporated in Virginia as a not-for-profit, publicly supported organization, it is tax-exempt under the U.S. Internal Revenue Code. The Society's work and activities are carried out by volunteers.
The Society's programs emphasize public education, protection of endangered species, habitat preservation, and encouragement of appropriate landscape use of native plants.
The Potowmack chapter is the largest VNPS chapter, representing over 400 members in the counties of Arlington and Fairfax; cities of Alexandria, Fairfax, and Falls Church.
Walk at Great Falls with Rod Simmons