Walk as Jesus Walked - Disciples in the First Century A.D. (Shoreview)
Description
WALK AS JESUS WALKED: DISCIPLES IN THE FIRST CENTURY
Class meets at River of Life Church in Shoreview - 6:30 - 8:30 pm and the dates are - 3/25, 4/1, 4/8, 4/15, 4/22, and 4/29.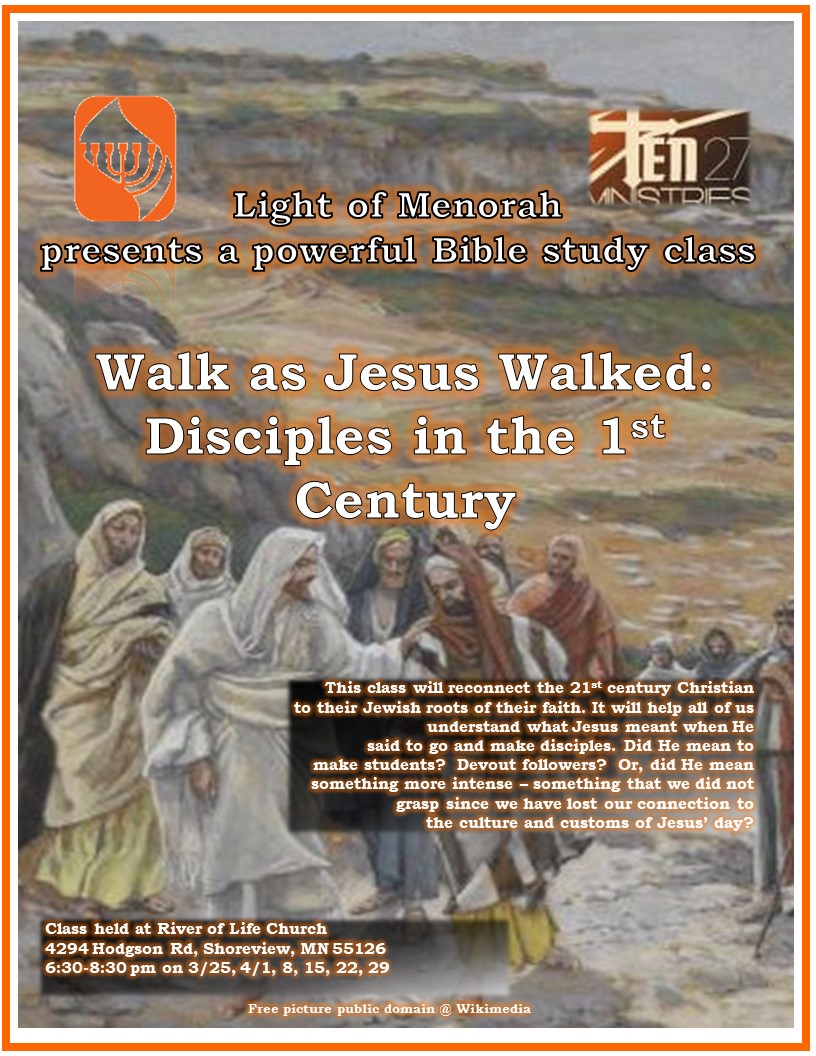 The Hebrew for disciple is "TALMID," pronounced tal – meed (plural is tal-meh-deem). This Bible study will try and reconnect us to our Hebrew Heritage to learn what was a talmid or disciple. Jesus commands us to go and make disciples or talmidim. 21st century churches have evangelism and discipleship programs. But, are these programs making disciples as understood in the 1st century A.D.? What did Jesus mean? What did the people of Israel in the 1st century understand when they heard the Great Commission? What effect would it have on us in the church if we knew what a disciple really was, a talmid of Rabbi Yeshua?
Come, let us return to follow Him. Come and let us"walk as Jesus walked" and let us "sit at the feet of Rabbi Jesus" to be His talmidim. Come let's begin to really obey God's last command to Go and make disciples.
What others are saying ...
"Rev. Ferret's classes are over the top! His knowledge and understanding of Biblical culture and tradition, along with his ability to 'dissect' ancient languages makes for "Wow" sessions."
"Think you know your Bible pretty well? I did too, until I began taking Rev Ferret's classes on the history, culture, languages, archeology, and geography of Bible lands. It was then that these sacred texts, known to us as the Bible, took on much deeper meaning than I'd ever realized."
"I am so excited about the classes that Rev. John Ferret has and continues to teach. I personally have learned so much. It has changed my life in that I have a much better perspective of what it means to be a disciple of Jesus."
REGISTRATION REQUIRED - this class is provided at no cost - only one registration per person unless you are registering as a husband and wife or if one is registering for a family. A class book is available for optional purchase. This book is filled with the complete course content, pictures and maps in full color, plus, and most important, the complete bibliography of Rev. Ferret's research and backup on all the course content. The book is $50 and must be ordered when you register. You can chose to pay now or at the door. You can pick the option under PAYMENT when you order the book. Note - this class will be held only if 20 or more register.
Class meets at River of Life Church in Shoreview - 6:30 - 8:30 pm and the dates are - 3/25, 4/1, 4/8, 4/15, 4/22, and 4/29