Join us on Saturday October 2, 2021, 3:00 pm on Main Street in Stone Mountain, Georgia OR virtually.
About this event
Since 2001, men, women, and their families around the world have joined the award-winning Walk a Mile in Her Shoes® domestic violence awareness march. It is a dramatic opportunity to raise awareness in the community about the serious causes, effects, and remediation to domestic violence. The Swinney Foundation works to help build strong families and even stronger communities by providing support to single parent families. And we know that women are most at risk for domestic violence when they are attempting to leave and immediately after leaving a relationship.
There is an old saying: "You can't understand another person's experience until you've walked a mile in their shoes." To get people listening, learning, and talking, the Walk a Mile in Her Shoes® march is organized around men literally walking one mile in women's high-heeled shoes. It's not easy walking in these shoes, but it's an experience around which a lot of education, self-reflection, and change happens. It's impressive to see such a visually stunning public statement of listening, learning, allyship, and commitment. It's an engaging event that gets the community talking . And it is an experience that you will never forget.
Come join us in this informative but light-hearted, family-oriented event. And watch as men strut their stuff for a mile, in a variety of women shoes from flip flops to stilettos!
INCLUDED IN THE PRICE: A Walk a Mile in Her Shoes march t-shirt and snacks.
Team tickets are available for groups of 10 or more people.
Sponsorship tickets are available at the following rates:
Stilettos Presenting Sponsor $5,000+
Top billing on posters, and logo link on center website
50 tickets, which includes t-shirts and snacks
Table set up at the event
Recognition during Walk Welcoming Ceremony
Recognition in video with logo on backdrop [large]
Inclusion in social media
Logo/Name on Walk Progress Signs
Pair of Pumps Sponsor $2,500+
Secondary billing on posters for event and logo link on website
25 tickets, which include t-shirts and snacks
Recognition in event video and logo on backdrop [large]
Recognition during Walk Welcoming Ceremony
Inclusion in social media
Kitten Heels Sponsor $1,000+
Billing on event posters and on website
10 tickets, which include t-shirts and snacks
Recognition in video with logo on backdrop [Medium]
Recognition during Walk Welcoming Ceremony
Recognition in media at Walk event
Inclusion in social media
Flip Flops Sponsor $500+
Billing on event posters and logo link on website
5 tickets, which include t-shirt and snacks
Recognition in video with logo on backdrop [Small]
Recognition during Walk Welcoming Ceremony
One post a month [12 total] on social media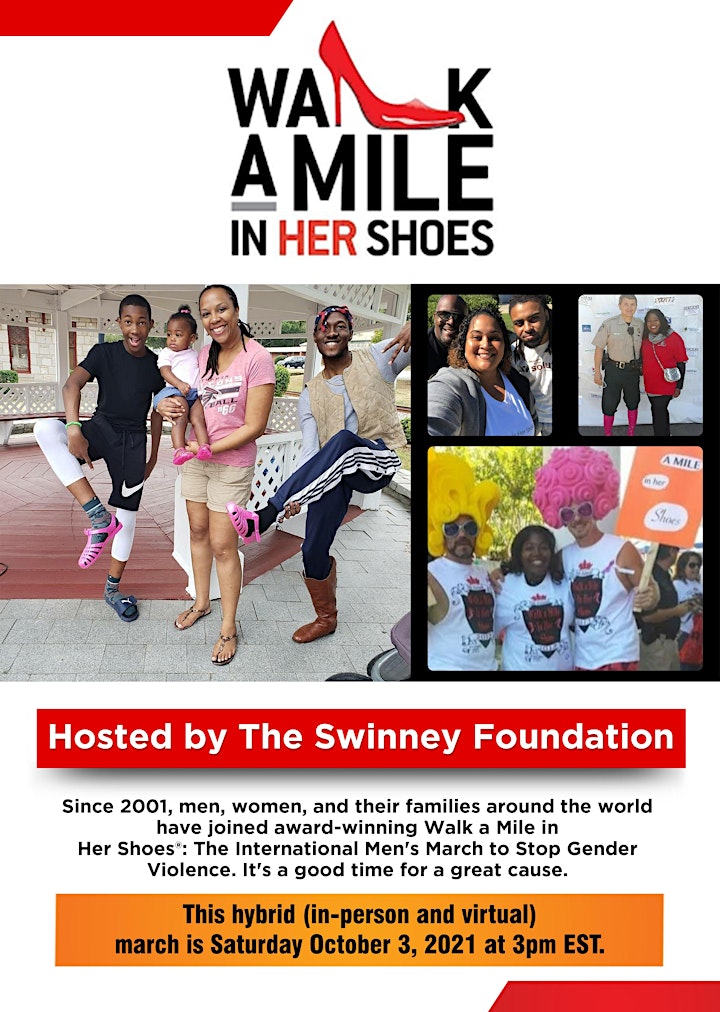 Organizer of Walk a Mile in Her Shoes domestic violence awareness march