Location
Mills Ford (Baxter, MN)
14858 Dellwood Drive North
Baxter, MN 56425
Refund policy
Contact the organizer to request a refund.
Eventbrite's fee is nonrefundable.
Compete as a team or individual to win prizes, enjoy food and entertainment, decorate your heels or shoes and Walk a Mile in Her Shoes!
About this event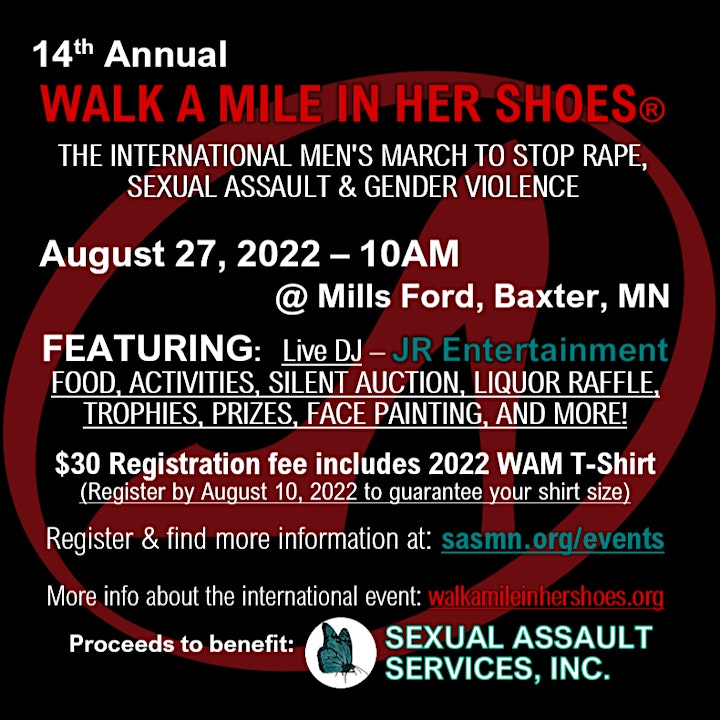 This is a playful opportunity for men to step into women's shoes to raise awareness about the serious causes, effects and remediations of sexualized violence against all genders.
Walk a Mile in Her Shoes® asks men to literally walk one mile in women's high-heeled shoes. It's not easy walking in these shoes, but it's fun and it gets the community talking about something that's difficult to talk about: sexualized violence.
The event is abundant with opportunities to get people talking. For preventive education, it helps men better understand and appreciate women's experiences, thus changing perspectives, helping improve gender relationships and decreasing the potential for violence. For healing, it informs the community that services are available for recovery. It demonstrates that men are willing and able to be courageous partners with women in making the world a safer place.
All genders and all ages are invited to WALK A MILE IN HER SHOES®
*Registration cost includes a 2022 WAMIHS T-Shirt
For more event info: click here to visit our website
For more info about the international Walk a Mile in Her Shoes® movement click here