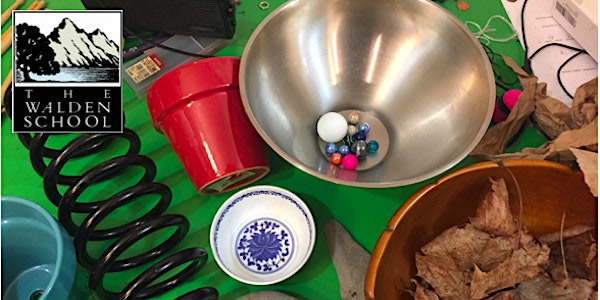 Walden Online Workshops Presents: IN A SOUND PLACE
Found object percussion virtual workshop, presented by percussionist Matthew Gold.
About this event
IN A SOUND PLACE
Found Object Percussion Virtual Workshop
Duration: 90 minutes
Participants: 20 fully active participants plus any number of limited participation/observer slots. There will be opportunities for both full participants and observers to be creative and interact with the group. The 20 full activity slots are reserved on a first come first served basis. Read more about this below and select "Participant" or "Observer" when registering for this workshop. No experience is necessary for either!
Discover the musical potential in the everyday objects all around us in this exploration of found object percussion. Using materials collected from our environment, as well as our voices and bodies, we will discover new ways of making music together and new modes of listening. This workshop will trace a history of found object percussion music and will explore strategies for discovering, creating, and notating new sounds made with ordinary objects through works by John Cage and Pauline Oliveros. Learn to see the whole world as your instrument and be ready to make some noise(s) as we connect, create, and perform together!
Through demonstrations and group activities we will:
Learn to make sound on everyday objects
Learn to listen in new ways
Explore the relationship between physical materials and qualities of sound
Discover new ways of making music together
Discuss topics in music including time, chance, notation, and relationships with visual art and nature
Activities in the workshop will engage with John Cage's work for percussion ensemble (with a rather long title), But what about the noise of crumpling paper which he used to do in order to paint the series of "papiers froissés" or tearing up paper to make "papiers déchirés?" Arp was stimulated by water (sea, lake, and flowing waters like rivers), forests.
But what about the noise… was composed in 1985, "in celebration of the work of Jean Arp on the occasion of the centenary of his birth." The work has no score, but consists of ten parts that may be used to make a performance. The parts are played simultaneously but independently of the others, lasting any length of time. Instruments are found objects of two basic types and are chosen by the participants according to a set of instructions.
PARTICIPATION
A maximum of twenty participants can take part in the But what about the noise… activity. Those who have reserved spots should prepare the materials below. Others attending in an observer capacity can also find sound objects according to these guidelines and take part in the larger group activities, or simply join using their voices and bodies.
MATERIALS
In advance of the workshop, each participant in But what about the noise... should gather two types of objects, some capable of percussive sounds and others capable of sustaining, according to instructions below. Do not use standard or conventional instruments!
Gather at least two slightly resonant instruments (found objects) of different materials (wood, metal, and glass, for example—not metal, metal, and wood) to be played in unison. For these percussive sounds try out different combinations of objects and materials. Examples include:
Pot lids
Metal, glass, or ceramic bowls
Flower pots
Glass bottles
Wooden box
Beaters that allow you to strike both (or all) of your objects at once. These could be pencils, chopsticks, standard mallets, or anything else you have available. Fingers can even work if they get a good sound!
At least one sound suggestive of events in nature, that can be sustained. Find items from the natural world and experiment with ways to make sound with them. Examples include:
Water (pouring, bubbling, etc.)
Paper (crumpling, tearing, rattled, etc.)
Nature sounds (pebbles, stones, leaves)
Other not easily identifiable sounds
Look for objects that sound interesting to you. Focus on the quality of your sounds and find things that sound surprising, interesting, rich, or beautiful. Have fun exploring your environment, both built and natural, and seeing what sounds you can discover!