A workshop presented by Walden School teaching faculty Nate May.
About this event
Getting Started Playing By Ear
Presented by Nate May, Walden School Teaching Faculty
March 9, 2021
7:30pm Eastern Standard Time
One of the best-kept secrets of music education is this: music creators of every genre learn and hone their craft by listening to music. It takes work to get to the point where every song or piece you hear can be a lesson, but once that work is done, you'll never stop learning. So when so much music training is based on notation, where do you begin this process?
This workshop is designed especially for composers, songwriters, beatmakers, and producers who have basic piano skills and are looking to start learning to play songs they love directly from recordings. No theory knowledge is required—I've been developing my own ways of explaining and visualizing what you need to know with maximum clarity. Not a creator (yet)? No problem—these skills will apply to you as well.
To prepare: hook up decent speakers or headphones (you'll want to be able to hear the low frequencies in particular), sit down at your keyboard instrument, and get out some paper and pencil. Looking forward to working with you!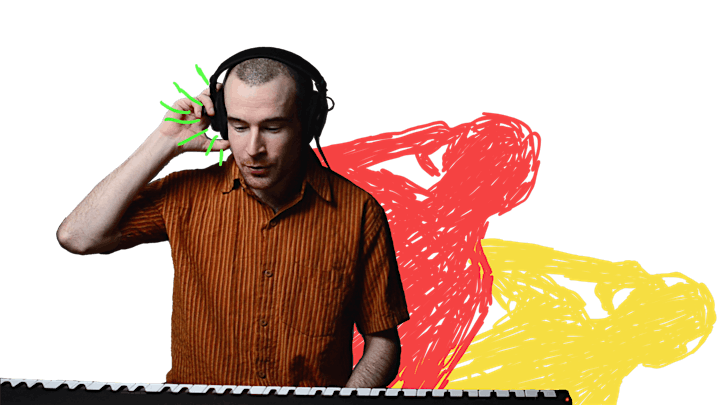 Nate May is a faculty member and leadership team member at Walden's Young Musicians Program, and recently launched an online music school called Synthase. Recognized by the American Academy of Arts and Letters, the Los Angeles Philharmonic, and the Yale School of Music, Nate is a versatile American composer and improviser whose music has been heard across four continents: in jazz clubs and DIY spaces, on radio and television, in museums and modern dance venues, and on mainstage classical events at New York's Sheen Center, the Walt Disney Concert Hall in Los Angeles, and others. His music spans a wide array of genres: he has composed orchestral, choral, chamber, electronic, and experimental music, scored a full-length feature film, played in a post-rock band, and given fully-improvised performances on piano and Fender Rhodes. Also an award-winning educator, he has served as a teaching artist with the American Composers Orchestra and taught courses at Yale University, Cincinnati's College-Conservatory of Music, Montclair State University, the Walden School, and the Thurnauer school. Currently a doctoral candidate in composition at Yale, he holds degrees from Cincinnati's College-Conservatory of Music (M.M., Composition) and the University of Michigan (B.F.A., Jazz and Contemplative Studies). He grew up in Huntington, West Virginia and currently resides in the San Francisco Bay area, where weekly walks among the cliffs and redwoods have helped him endure the pandemic isolation.
About Walden Online Workshops (WOW!)
The Walden Online Workshops (WOW!) are a series of lectures, demonstrations, classes, and presentations on a variety of musical topics, presented over video call by The Walden School's teaching faculty, artists, and special guests. WOW presentations are free and open to alumni of CMR, YMP, OYME, OCME, TTI, and JCC, parents, donors, faculty, staff, artists, and members of the public. Please feel free to invite your friends and colleagues to join us!
Visit waldenschool.org/wow or contact us at wow@waldenschool.org for more information or with any questions that you might have along the way. We look forward to seeing you at a Walden Online Workshop soon!