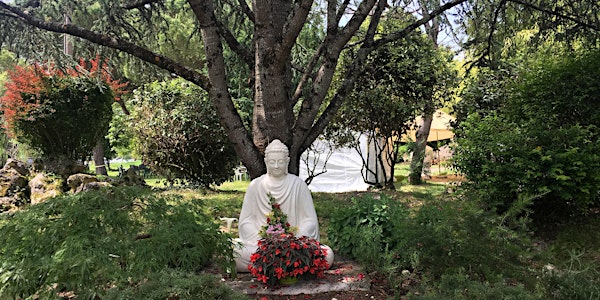 "Waking Up with Mother Earth" - Day of Mindfulness with Joe Reilly
In "Waking Up with Mother Earth" we will explore the waking up of the Earth in spring and our spiritual awakening.
By Midwest Earth Holder Community
When and where
Date and time
Saturday, March 18 · 7am - 1pm PDT
About this event
The Midwest Earth Holder Community Leadership Circle is happy to offer a Day of Mindfulness, "Waking Up with Mother Earth", with Joe Reilly on Saturday, March 18, from 9:00 am - 3:00 pm CT online via Zoom. We are pleased to have Joe Reilly, a Dharma Teacher in the Plum Village Tradition of Zen Master Thich Nhat Hanh, leading this day. Joe will be offering a guided meditation, a musical Dharma talk, a deep relaxation, and singing and movement.
In "Waking Up with Mother Earth" we will explore the waking up of the Earth in spring and our spiritual awakening. Thay teaches us in Zen and the Art of Saving the Planet, "When you wake up and you see that the Earth is not just the environment, the Earth is us, you touch the nature of interbeing." And, "In that kind of relationship, you will have the love, strength, and awakening you need to change your life." This day will explore through meditation, song, movement and sharing, the joy of waking up with Mother Earth in the Midwest springtime and touching the Earth in us to set ourselves free.
In addition, our Day of Mindfulness will include small group breakouts for introducing ourselves and for Dharma sharing and a Question and Answer session with Joe and a couple of experienced practitioners to respond to your questions. We are offering breakout rooms for the following affinity groups:
Black, Indigenous and other People of Color (BIPOC)
LGBTQIA
Wake Up (ages 18-35)
12-Step
Please indicate if you have a preference to be in one of these affinity group breakout rooms to Keith Miller at keith.miller3@comcast.net
Schedule
Song (Joe)
Welcome and Land Acknowledgement
Ancestor Song (Joe)
Breakout for Introductiions
Guided Sitting Meditation (Joe)
Musical Dharma Talk (Joe)
Dharma Sharing (in small breakout rooms)
Lunch/Walking Meditation Break
Deep Relaxation (Joe)
Q&A Panel
Singing and Movement (Joe)
Closing/Sharing the Merit
Dana is the practice of generosity. One of the ways we do this is to offer wisdom and teachings to others; another is to offer gratitude through financial means. While the Day of Mindfulness is offered freely, you can help support the teaching of Joe Reilly with a donation. Suggested donation is $20 - $50. Please make your contribution using Venmo or PayPal as follows:
Venmo: @Joe ReillyMusic
PayPal: https://paypal.me/josephRadellReilly?country.x=US&locale.x=en_US
For further information on Joe, please see his short bio below or go to his website at joereilly.org.
Joe Reilly Bio
Joe Reilly is on a musical journey of faith and spirit. His songs touch deep reserves of compassion and joy within the hearts of his listeners, giving encouragement to others on the spiritual path and using music as a universal voice of communication and celebration beyond lines of religion. Joe was raised Catholic and currently studies and practices progressive Catholicism, Native American spirituality, and engaged Buddhism. Joe has been a student of Zen Master Thich Nhat Hanh since 2004 and is often found singing and writing songs on spiritual retreats. Reflective of the diverse traditions that guide his path, Joe has brought his music into Ba'hai, Buddhist, and Jewish Temples, Catholic, Methodist, Unity, and Unitarian Churches, and many Native American gatherings and ceremonies.
PLEASE NOTE: After registration, you will receive a Zoom invitation with a link to the Day of Mindfulness.
About the organizer
Please contact Keith Miller at keith.miller3@ Comcast.net with any questions regarding this event.