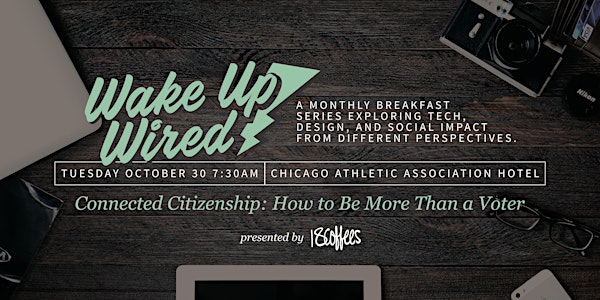 Wake Up Wired: Connected Citizenship
When and where
Location
Chicago Athletic Association Game Room, 2nd Floor 12 South Michigan Avenue Chicago, IL 60603
Description
Wake Up Wired is a morning series presented by 18 Coffees, focused on exploring topics related to design, technology, and social impact from different perspectives, and powered by the talent and wit of the 18 Coffees community.

Every month, we bring in a diverse set of speakers and facilitators who can help us go deeper on the issues of the day through conversation and action (and caffeine).
"Connected Citizenship: How to Be More Than a Voter"
Sponsored by Weber Shandwick and Fairgrounds Coffee & Tea, this month's Wake Up Wired tacks politics, civic engagement, and technology ahead of the 2018 midterm elections on Tuesday, November 6.
Agenda:
7:30-8:00 am: Breakfast & Networking
8:00-8:05 am: Introduction by Caleb Gardner of 18 Coffees
8:05-8:10 am: "5-Minute Pitch: How to Be More Than a Voter" by Jake Mikva of GoodWerk
8:10-8:25 am: Interactive activity, led by Jake Mikva
8:25-8:55 am: Conversation and Q&A with Betsy Hoover of Higher Ground Labs and Abhi Nemani of EthosLabs, moderated by Victoria Houed, founder of BlackByte
8:55-9:00 am: Closing by Caleb Gardner
Voices:
Jake Mikva is the Founder at GoodWerk, which creates digital content to empower millennials in the political process and encourage political giving to progressive candidates. He is (mostly) a Chicago native, spent time on the Hillary Clinton campaign in Brooklyn and received his MBA at the University of Chicago Booth School of Business. Jake is also a Partner at Defiant, a millennial-focused impact strategy group and creative agency.
Betsy Hoover is a founder of Higher Ground Labs and 270 Strategies. Her political career began in 2007 as an organizer on the first Obama Campaign. In 2012, she served as the National Digital Organizing Director, sitting at the intersection of field, digital, and technology. In 2013, Betsy co-founded 270 Strategies, a public engagement firm that works with political campaigns, causes, and companies all over the world. Betsy is an organizer first. She has been recognized by Business Insider as "at the forefront of political innovation" and was featured on Forbes magazine's "30 Under 30: Law & Policy" list for her work on President Obama's re-election campaign.
Abhi Nemani is a public servant. He has worked for or with local government for over 10 years, focusing on how technology can change the way our public institutions work. He helped build, launch, and run, the national nonprofit Code for America. He then was appointed as the City of Los Angeles' inaugural Chief Data Officer. Currently he serves as the City of Sacramento's Chief Innovation Officer, as a pilot of his new government technology startup EthosLabs.us: a public and private accelerator for cities. Abhi is also on the board of the OpenGov Foundation and Data4America. His work has been featured in the New York Times, Washington Post, and Forbes, and he has been a featured speaker at the World Bank, SXSW, and numerous conferences and universities around the world.
Victoria Houed is an industrial engineer and self-taught software developer. She founded BlackByte, a nonprofit for black women in technology, and currently builds logistics software for Cards Against Humanity's shipping company, Blackbox. In her spare time she builds, consults, and works with local Chicago artists and communities like 18 Coffees.

Caleb Gardner is the founding partner of 18 Coffees, a strategy and innovation firm focused on helping organizations solve problems, bring ideas to life, and get a foothold in the future. He has a deep background in digital strategy, including at Edelman, Bain & Company, and as lead digital strategist of Barack Obama's political advocacy group, OFA. An insatiably curious strategist with unique professional experience, Caleb has spoken at Inbound, SXSW, Dad 2.0 Summit, and other professional conferences, and been featured in Entrepreneur and Forbes.