Description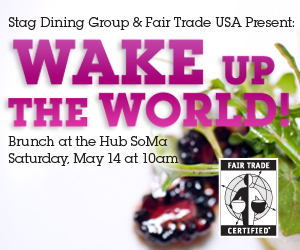 Fair Trade USA and Stag Dining Group invite you to join us for Wake Up the World Brunch on Saturday, May 14th at 10am in San Francisco. Chefs Jordan Grosser and Ted Fleury are committed to creating unforgettable dining experiences with a keen eye on social, economic and environmental sustainability. In celebration of World Fair Trade Day, Stag has prepared a delightful brunch menu that features a wide variety of Fair Trade Certified ingredients, paired with Fair Trade Certified coffee, tea and cocktails.

One such product that Stag has chosen to feature is Alter Eco's Fair Trade Certified quinoa from the Anapqui Association in the Bolivian Highlands. This group of more than 1,000 indigenous families focuses on producing high-quality organic quinoa, to improve the living conditions of its members and sustain the environment. The added income from Fair Trade has given the Anapqui farmers better access to healthcare and education, and nearly 3,000 new jobs have been created to support the growing quinoa industry in the region.

Proceeds from each ticket support the work of Fair Trade USA, an Oakland-based nonprofit organization and the leading certifier of Fair Trade products in the United States. We depend on charitable contributions to support farmers and workers in the global Fair Trade network. Thank you for your support and we look forward to joining you at the table.


MENU
Compressed Fruit Salad
Puffed Granola, Straus Yogurt, Honey, Vanilla

Smoked Sturgeon
Quinoa Blini, Asparagus, Caviar Creme Fraiche

Slow Cooked Egg
Braised Bacon, Lentils, Pickled Chiles

Coffee Pot de Creme
Spiced Chocolate Ganache, Cocoa Nib Biscotti
Featured Speakers:
Paul Rice
, President & CEO of Fair Trade USA
Heather Franzese
, Senior Manager of Apparel and Linens, Fair Trade USA

Can't attend but want to support Fair Trade? Donate to Fair Trade USA to support the organization's work with farmers in the developing world to improve the quality and environmental sustainability of their harvests.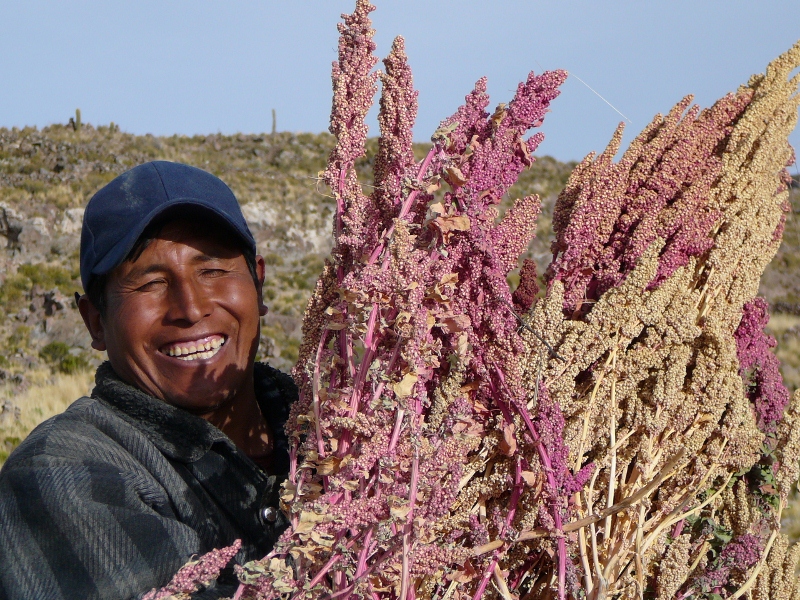 Attilio Perez is a Fair Trade quinoa farmer and member of the Anapqui Association in Bolivia.
Photo courtesy of Alter Eco USA