Description

There's still time to say YES to Swami Beyondananda and award winning composer Gerald Conway. YES Salon Int. is excited join IONS~LA (Institute of Noetic Sciences Los Angeles Community Group) in co-creating "heartland security" because--well you all know about laughter and endorphins. . . . . . . Norman Cousins cured his illness by watching the Marx Brothers in the hospital. Just maybe we could all use a good dose of hilarity to heal our societal maladies.
For more than 30 years, the Swami Beyondananda, has been a fount of comedy disguised as wisdom – or is it wisdom disguised as comedy? Noted author Marianne Williamson has called him "the Mark Twain of our times" because the comedy isn't just hilariously funny, but also offers sharp social commentary and spiritual perspective.
Billed as "one of the biggest names in comedy" ("Beyondananda" alone has 12 letters), Swami keeps the audience in hysterics with his mixture of word play, seriously funny political and spiritual commentary, and playful silliness.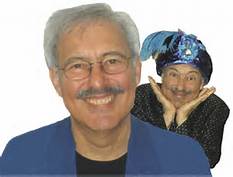 Over the past 28 years, Swami, in a "past life" (i.e. before Swami) Steve Bhaerman, has authored such classic books as Driving Your Own Karma, When You See A Sacred Cow Milk It for All It's Worth, Duck Soup for the Soul and Swami for Precedent: A 7-Step Plan to Heal the Body Politic and Cure Electile Dysfunction. Since 2005, Steve has written a political blog with a spiritual perspective, Notes From the Trail, hailed as an encouraging voice "in the bewilderness." His latest book, written with cellular biologist Bruce H. Lipton, PhD is Spontaneous Evolution: Our Positive Future and a Way to Get There From Here (Hay House, 2009)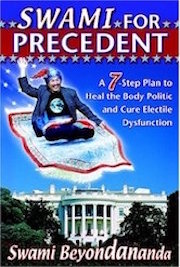 Before his "incarnation" as Swami Beyondananda, Steve Bhaerman started an alternative high school in Washington, D.C. and co-authored a book about his experiences, No Particular Place to Go: Making of a Free High School. A political science major, he later taught history to autoworkers at Wayne State University in Detroit as part of the Weekend College. In 1980, Steve co-founded Pathways Magazine in Ann Arbor, Michigan, one of the first publications bringing together holistic health, personal growth, spirituality, and politics. Subsequent to Pathways, Steve was a freelance writer and co-author with Don McMillan of Friends and Lovers: How to Meet the People You Want to Meet (Writer's Digest Books, 1986). Steve is active in transpartisan politics and the practical application of Spontaneous Evolution.
He can be found online at www.wakeuplaughing.com
Join the fun as the "turban-powered" Swami Beyondananda creates a field of hearty laughter and inspired celebration, following the music of award winning composer and musician, Gerald Conway. And bring your friends, because when it comes to music and laughter, the more the we laugh and listen together, the more we create an antidote to fear. This is the antidote we've all been waiting for!

Parking: Plenty of free parking
YES Salon International gives venue and voice to YESes that matter by fostering a culture of peace and creativity with diverse and intergenerational communities. YES Salon promotes change through asking the question, "What are you saying YES to?"
YES Salon Contact Lael Belove 818 351 9713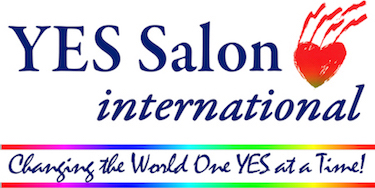 THE INSTITUTE OF NOETIC SCIENCES
~ exploring the frontiers of consciousness
to advance individual, social and global transformation
~ serving an emerging movement
of globally conscious citizens dedicated to
transforming the world from a basis of fear to one of love,
freedom, wisdom and sustainability,
~ and to manifesting our highest capacities to create
a more joy-filled world for all.
IONS~LA contact Tahdi@juno.com / 818 888 6004