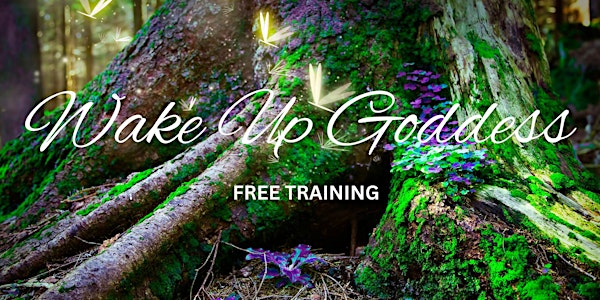 Wake Up Goddess Training
Discover the luxury of ease, flow, softness, and interior harmony. Elevate your life by awakening your Divine Feminine Essence.
Date and time
Tuesday, May 30 · 10 - 11am PDT
About this event
Join us for the Wake Up Goddess free training where you will learn to:
Balance Your Masculine and Feminine Energy-
When the energies of the masculine and feminine are in balance, there is tremendous power and potential. With the help of this training, you'll learn to channel these energies more effectively and manifest with more ease, grace, and creative power.
Experience More Pleasure In Life-
Awaken your sensuality by reclaiming the connection to your body. Sensuality is much more than sex! Learn a fun and gentle practice that will instantly bring you into the present moment, encourage relaxation, and increase pleasure by engaging your senses.
Heighten Your Intuition-
Strengthen your intuition through exercises that focus on inner stillness and listening. By developing your intuition, you can learn to better trust your inner voice and tap into your personal oracle.
Meet Your Hosts:
Kim Bady
Kim has been a leader for women in the areas of personal and spiritual development for over 20 years. She's led retreats, conferences and created rites of passage programs for teens and women of all ages. A registered yoga teacher and a Certified Holistic Health Coach, Kim uses her medicine of movement, writing, storytelling, dancing and teaching to inspire women in the courses she leads and the community she creates. To learn more, visit wakeupgoddess.com
Kimberly White
Kimberly is a healer, coach, and co-creator of Walking in H.E.A.L.S podcast, which focuses on helping women transform their lives by healing their identity and self-concept. She holds community and small group spaces, spiritual retreats, and courses, where women can journey through the womb, heart, and mind creating fuller, peaceful, and more abundant lives. She hopes to amplify the presence of sacred feminine energy to and restore balance and richness to our inner and outer worlds. To find out more about her visit click here: iamkimwhite | Facebook, TikTok | Linktree
For more infomation visit us both at wakeupgoddess.com
Frequently asked questions
Will this training be recorded?
What do I need to do to prepare?
How long will this training be?
About the organizer
Kim Bady is an Integrative Nutrition and Well Woman Holistic Health Coach. For 25 years, Kim has been a women's leader and spiritual teacher. She combines her knowlege in the health and wellness field, with her spiritual gifts of healing to help women experience sustainable health by using a more holistic approach that is feminine centered. Learn more about Kim and her She Wellness programs at www.shewellnesscoach.com.