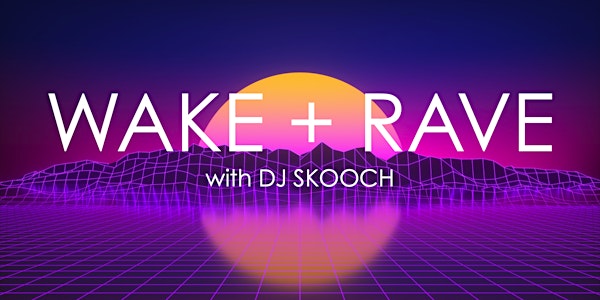 WAKE + RAVE [online] w/DJ Skooch!
Get up to get down every Wednesday morning with DJ Skooch!
Refund Policy
Contact the organizer to request a refund.
Eventbrite's fee is nonrefundable.
About this event
WAKE + RAVE is a high-intensity, mood-boosting, stress-busting, soul-filling, boogie-like-nobody's-watching morning dance party to kickstart your day so you can slay!
Orchestrated every Wednesday AM via livestream by DJ Skooch!
-------
Why WAKE + RAVE?
MUSIC // Research has shown that listening to music reduces anxiety, blood pressure, and pain as well as improves mood, mental alertness, and memory. Each week, DJ Skooch curates a playlist guaranteed to get you pumped to slay your days!
MOVEMENT // Dancing floods your brain with "happy hormones" that are great for your mind + body: dopamine (pleasure), oxytocin (connection), serotonin (contentment), and endorphins (pain-relief). When you tap into your body's ability to produce its own "medicine," you become your own superhero!
CONNECTION // Enjoying song + dance in community with other like-minded individuals takes the health benefits of music + movement to another level. Come back each week to "dance with" other WAKE + RAVERS from the comfort of your own home!
-------
How to WAKE + RAVE in 5 STEPS:
1. Get your ticket.
2. Wake up day-of. Be grateful.
3. Change your clothes or stay in your PJs + grab a glass of water.
4. Join via provided Zoom link.
5. DANCE YOUR FACE OFF!
-------
About DJ Skooch:
Jen Scumaci (DJ Skooch) has been beat-mixing, remixing, and mashing-up groovy tunes as a digital DJ since 2014. She has been the opening DJ for the Ladies of LCD Soundsystem National Tour, Thievery Corporation's Treasures from the Temple Tour, INBOUND Rocks Presents Amy Schumer (2017) and Two Dope Queens (2018). Coined "The Community's DJ," Skooch has provided the soundtrack for community-focused events including TEDx Portsmouth, Portsmouth PRIDE, Telluride by the Sea, Beats with Benefits, and Pecha Kucha Night. 
One of her passions is creating safe and creative social spaces for BIPOC, womxn, and the LGBTQ+ community, namely The Sagamore Club Presents Series at The Press Room, See-You-Next-Tuesdays at Fool's Errand Boston, BIPOC Fest, and Women's Weekend Ogunquit.