WAKE Motivational Mastery Course: Series 1

Saturday, February 25, 2017 from 10:30 AM to 1:30 PM (PST)
Event Details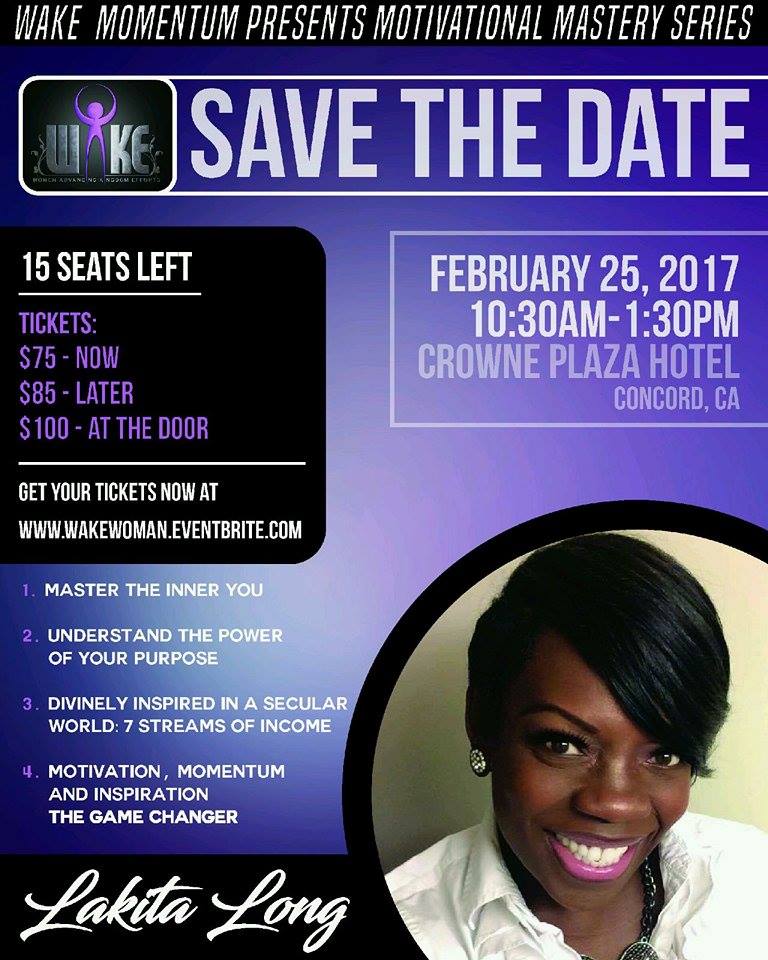 A powerful Didactic Training, Skill Building and Kingdom Exchange, of equipping, and providing relevant information for those who know that we must be deliberate and intentional in what we do and requires the Power of Intentional Direction and Execution.  
This is the First series of several training (4 more this year) that will totally catapult you beyond where you want to be.  It is not for people that are looking for excuses, but individuals who are ready to step up for their life, and make the difference now not later.  
It is very intense, very in your face, but will totally change the game for your life.  Each of the 4 bullets will go into detail and will give you the skills necessary to move to the next phase in the series. 
Motivational Mastery Series.... has been proven over the years to work for thousands of people and now it is your time to actually see yourself do what you have always wanted to do.  
Master The Inner You




Understand The Power of Your Purpose

Divinely Inspired in a Secular World- 7 Streams of Income

Motivation, Momentum, and Inspiration: The Game Changer
                                             AND MORE
 Who Should Attend:
Women who refuse to make excuses and are ready to dig a little more to enhance the things you are working on.  We welcome you to the WAKE Motivational Mastery Series.  You will be encouraged, inspired, motivated, to look at the canvass of the world differently, apply the techniques as such and see tangible results immediately.  Get motivated by God's word and Live Life in Forward Motion.  
The WAKE Momentum Mastery Series for 2017 will enlighten you to understand how to move progressively forward under all circumstances.  It will be a powerful exchange of information and an atmosphere that encourages you to move forward which creates steady progression.  
WAKE's Mission and Vision
Learn the biblical way

to deal with everyday issues.

To be a powerful Woman Leader at home, job, business and ministry.

To be

motivationally inspired

 and spiritually empowered to increase your influence on every level.

To advance Gods Kingdom in the earth.
  Those Who Have Attended:
Women who are Kingdom participators and want to  knows that leadership is more than just know how.

All women who hold leadership roles in the workplace, community, business, and faith based organizations.

Women who are ready to be sharpened, empowered, and motivated to expand their life's assignment.

Women who are not sure what on earth they should be doing.

Women who know what they should do, but need inspiration, resources, and an environment that helps foster success.

 --------------------------------------------------------------------------------------------------------------------------------------

     Change the way a woman of the world sees herself, by being a monthly WAKE Partner.  Women in transitional housing and shelters will never be the same again.

        ---------------------------------------------------------------------------------------------------------------------------
WAKE (Women Advancing  Kingdom Efforts) is all things Empowering, Educational, Inspiring, Spiritual, and Business.  WAKE is a tool and premier resource to encourage women of faith everywhere, while exposing all women to topics that are relevant for their home, workplace, business and ministries. It is designed to strengthen, sharpen, and inspire women to take greater risks on a life worth living. 
WAKE's primary mission is to help make known your passion, call and efforts using biblical principles so that you are completely successful in all areas of your life.
----------------------------------------------------------------------------------------------------------------------------------
Any questions, please call us at 925-238-8711 or email us at  Staff@wakewoman.com
 FAQs
 What can/can't I bring to the event?
Please do not bring ANY children. It is disruptive for the learning process. 
 Where can I contact the organizer with any questions?
You can contact the organizer at 925-238-8711 or email staff@wakewoman.com
 Do I have to bring my printed ticket to the event?
No, you do not have to bring your printed ticket.
When & Where

Training Venue: Crowne Plaza Hotel
45 John Glen Dr
Concord, CA


Saturday, February 25, 2017 from 10:30 AM to 1:30 PM (PST)
Add to my calendar
Organizer
Lakita D. Long, The Marketplace Evangelist
Spiritually wired to motivate and psychologically impact your life by encouraging, empowering and inspiring you to Think Outloud and live life FULL and on Purpose. Proflic speaker, Author, and Marketplace Consultant, helping you to know the HOW's to making dreams happen NOW!
WAKE Motivational Mastery Course: Series 1