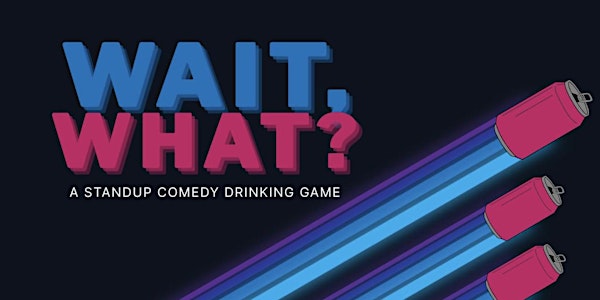 Wait, What? - A Comedy Drinking Game at The Jefferson St. Pub
Lafayette Comedy presents "Wait, What? - A Comedy Drinking Game" at The Jefferson St. Pub, Saturday, Sept. 24th @ 8:30 p.m.
When and where
Location
Jefferson St. Pub 500 Jefferson Street Lafayette, LA 70501
About this event
Lafayette Comedy presents "Wait, What? - A Comedy Drinking Game" at The Jefferson St. Pub.
Located at 500 Jefferson St.
Saturday, Sept. 24th @ 8:30 p.m.
Wait, What? is a stand-up comedy showcase mixed with a drinking game.
Audience drinks when the comics do something on the list!
Maybe you've been to a million comedy shows, or maybe you've never been to one because your affinity for laughter and drinking games just never crossed paths. Either way, here's a good-ass thing for you.
Comedians perform their sets and every time they do something or say something on the list, you take a drink! Could be a phrase, could be a gesture, could be something that a specific comedian *always* does!
Take a Lyft or Uber or cab to the show so you can leave safely and responsibly!
Tickets $10 in advance and $15 at the door.
Hosted by Geoffrey Gauchet and Isaac Kozell
Follow @waitwhatnola on Twitter
Featured comedians: tba
Lafayette Comedy produces stand-up comedy shows around the Acadiana area, featuring local, regional, and national comedians. Lafayette Comedy also produces weekly open-mics, monthly showcases, and special comedy shows.
SHOW RULES:
* Cell phones must be set on silent or turned off. Never take a phone call during the show. If it can't wait, please step outside.
* Table Talk – must be kept to a minimum. Lafayette Comedy reserves the right to remove loud, talkative patrons. No refunds will be given.
* No Flash Photography permitted
* No Recording: Each comedian owns the rights to their own material, you however do NOT.
* Do Not Heckle the Comedian: Heckling is interrupting the performance to upstage, disparage, or throw off the comedian. It is never acceptable, and the quickest way to ruin the show for everyone. It is also the quickest way to ejection.
* Do Not Interrupt the Comedian: The common excuse for this is "I'm helping the comedian" and "that's what you're supposed to do at Comedy Clubs!" Comedians are professionals, they do not need help. Exception: If a comedian directly engages you in conversation, it is ok to respond. Some of the best comedy happens this way, and can make for a memorable experience. Be ready to let it go when the bit is over.
I don't recognize the comic's name, will the show be funny?
Yes, all of our acts are professional nationally touring comedians. There are so many talented comedians out there today; it is impossible for all of them to become household names.  That being said, comedy is subjective and we recommend you research the comedian you are coming to see.
Unless otherwise stated, please consider all of our shows as "adult subject matter."
No refunds unless the show is cancelled or rescheduled. 
For any questions or to request more information, please contact Lafayette Comedy at lafayettecomedy@gmail.com or (337) 298-4373.