"Waisting Away" – Obesity and Weight Management Workshop

Saturday, November 21, 2015 from 9:00 AM to 5:00 PM (AST)
Event Details
Empowering Health Professionals with Weight Management Knowledge, Practice and Research is the focus of this Full-Day Workshop presented by Helene Charlebois, Registered Dietitian and Nutrition Coach from Canada. "Waisting Away" is targeted at Health Professionals who are not experts in weight &/or obesity management but work with people who would greatly benefit and appreciate positive ways to facilitate their health goals.
Target: Physicians, Registered Dietitians / Nutritionists, Diabetes & Cardiac Nurse Educators, Nurse Practitioners, Human Kinetic Professionals, Physiotherapists, Chiropractors, Fitness Experts, Naturopaths and other allied Health Professionals
 Registration: BDS$150.00 - All Health Professionals 
Registration includes lunch and all conference materials. 
CME Credit Available
In addition to the below topics, special emphasis will be placed on the obesity and nutrition challenges occurring in cases of Hypertension, Diabetes and High Cholesterol.
Sample Topics:
•            Being real; definitions; does wt = health
•            Bariatric surgery-nutrients, supplements
•            Unfolding the obesity hormones-stimuli
•            Effective start up; research behind diets
•            GI, protein, carbs, fat, calories do count
•            Journaling, planning, menus
•            Nutrition, food and nutrients
•            Meal balancing, hunger, snacking cycle
•            Calorie distribution; are all calories equal?
•            Beverages do count; Damage control
•            The exercise link; cardio, muscle, flex
•            Weight loss industry; pills & potions
•            Meal replacements – frozen, shakes
•            Portions, timing; multiple meals
•            Eating out, www - menus
•            Websites, apps, current trends
•            Food industry support; future insights
•            Intuitive eating, behaviour modification
•            Motivational interviewing
•            Case studies of real clients/patients
About the Speaker:
Hélène Charlebois is a Registered Dietitian-Nutrition Consultant in Ottawa with over 25 years' experience in helping patients/clients improve their health and nutrition. She specializes in helping people manage their health at any size. She is certified through the Academy of Nutrition & Dietetics as an Adult Weight Management Specialist with Levels 1 & 2 certifications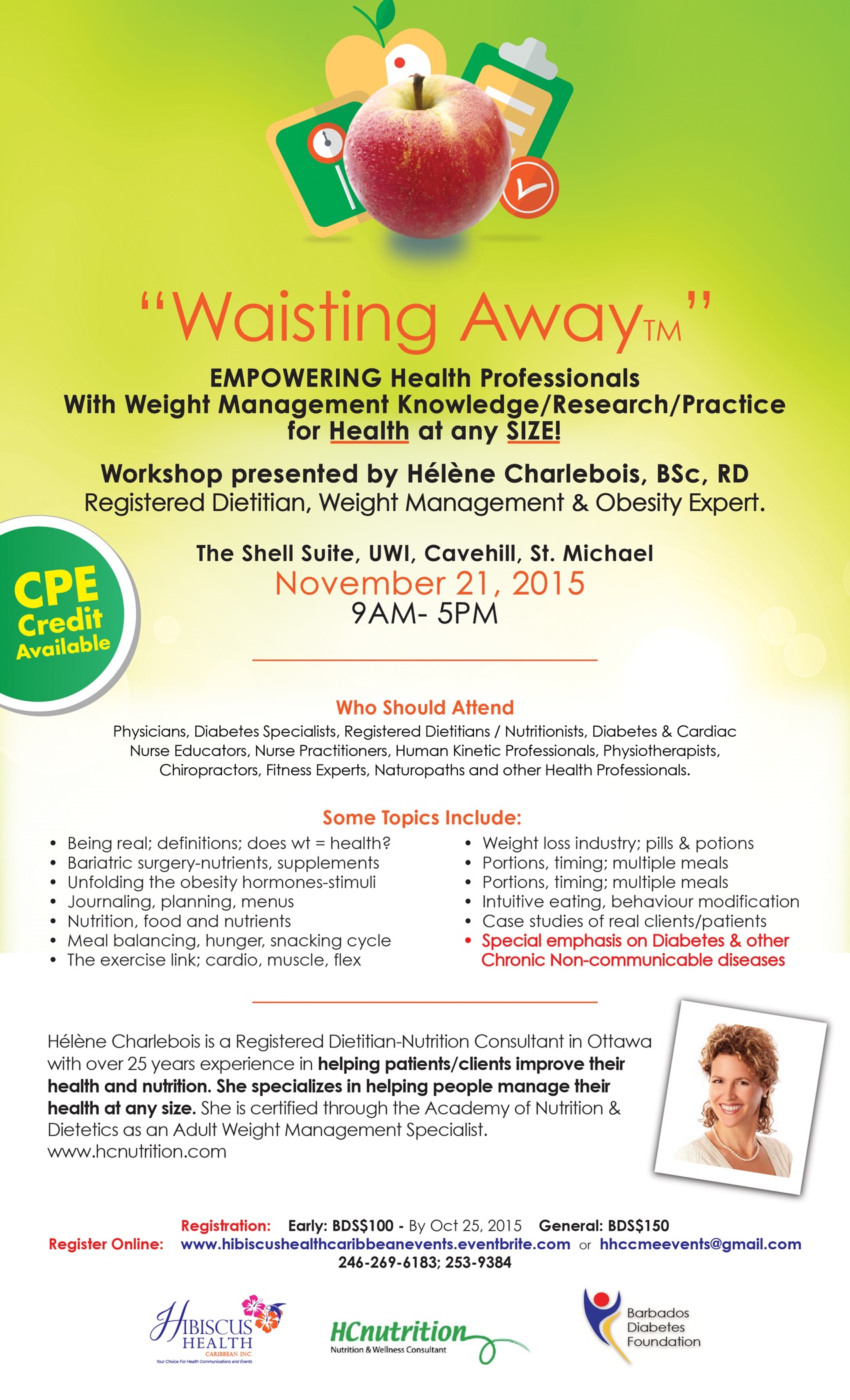 When & Where

The Shell Suite
UWI, Cavehill
St. Michael
Barbados

Saturday, November 21, 2015 from 9:00 AM to 5:00 PM (AST)
Add to my calendar
Organizer
Hibiscus Health Caribbean Inc.
Hibiscus Health Caribbean Inc. is a health communications and events company based in Barbados. Our goal is to coordinate and create quality health and medical events to strengthen the network and capacity of healthcare practitioners, of all types, to ultimately improve healthcare in Barbados and the Caribbean. We offer various types of health promotions and marketing services to assist our clients in targeting the medical community in Barbados and the Caribbean.
Some of our services include:
Creation and Coordination of Continuing Medical Education Events
Health Event Coordination including:
Corporate Health and Wellness Programmes & Events
Mixers & Networking Sessions
Health Marketing and Promotions
Health Services & Product Promotion
Advertisements, Medical Classifieds
Special Projects
Patient Education/ Empowerment Seminars
General Info
Office: 246 269 6183; 253 9384
hibiscushealthnetwork@gmail.com
www.hibiscushealthcaribbean.com
Event Pre- Registration
http://hibiscushealthcaribbeanevents.eventbrite.com
hhccmeevents@gmail.com
(pre-registration only via this site - no online payment available via this site)
Payment
Online: www.ticketpal.com
Barbados Select Ticketpal Locations: 
A& B Music Supplies - Sheraton
Sir Lloyd Erskine Sandiford Centre, St. Michael
Sundek Boutique, Limegrove, St. James
Hibiscus Health Caribbean Inc.
2017 - 2018 Schedule of Conferences/ Workshops/ Seminars
Month

CME Event

Sept 16

Caribbean Emergency Medicine Association 's  (CEMA) Emergency Medicine Conference – Day 1 – Barbados

From Office to Emergency Department

Sept 17

CEMA's Emergency Medicine Conference – Day 2- Workshops

Wound Care, ECG, X-Rays, Dressings

Oct 7-8

Annual Women's Health & Medical Conference - Barbados:

From Prenatal to Postpartum

Oct 29

Nutrition & Obesity Workshop - Trinidad

Nov 4

Physical & Rehabilitative Medicine: Amputee Care – Barbados

Nov 5

Wound Care Conference – Barbados

Nov 11

Considerations in Diabetes Management- Barbados

Dec 3

Chronic Cardiovascular Complaints – Barbados

2018

Jan 12-13, 2018

Medical Technology – Barbados

June 23-24, 2018

Sexual and Reproductive Health – Barbados

More 2018 events to be added!
 All events are held in Barbados unless otherwise specified. Some dates are subject to change and additional events may be added.
CPE Credit is awarded at all events. 
"Waisting Away" – Obesity and Weight Management Workshop