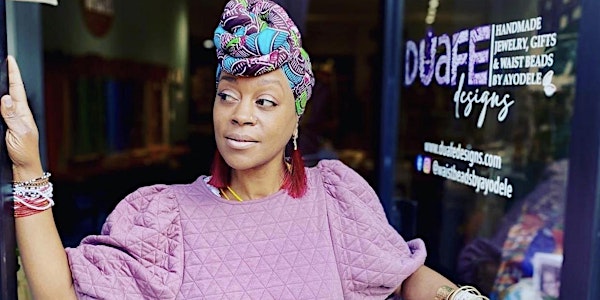 Waisted by Ayodele Pop Up Shop
Join us for Waisted by Ayodele: A well deserved day of friends, wellness and community!
When and where
Location
Kinks and Curls Natural Hair Boutique 3157 Sugarloaf Pkwy Ste 190 Lawrenceville, GA 30045
About this event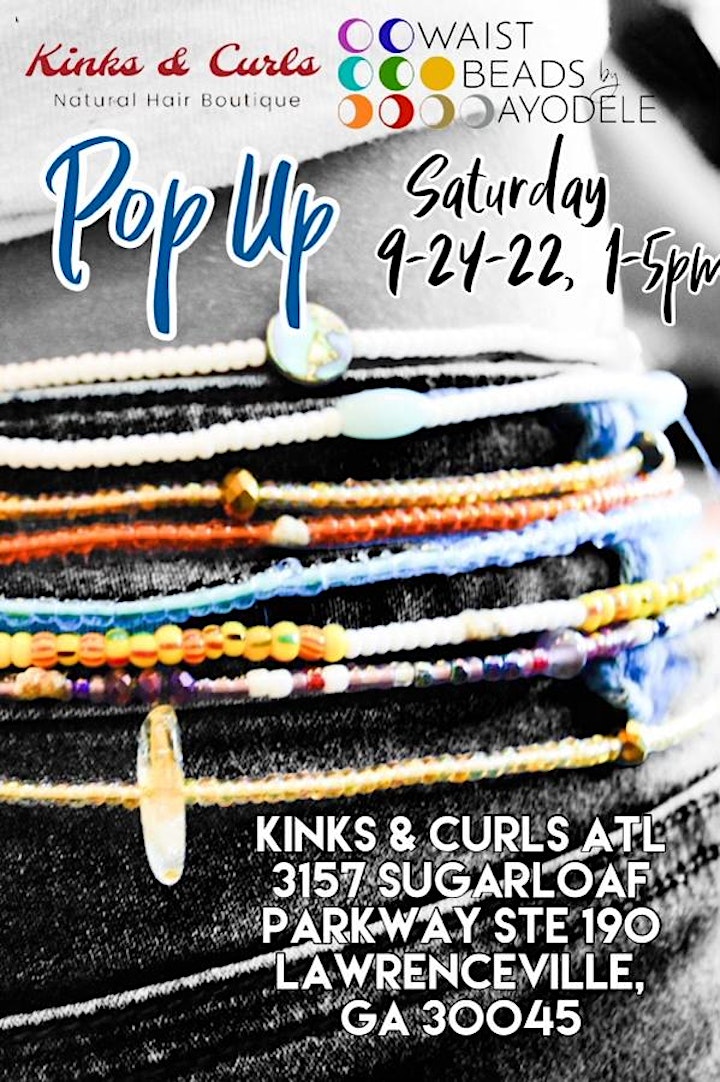 Join us for Waisted by Ayodele: A Small Business Saturday Event.  A well deserved day of friends, beauty, wellness, and refreshments! 
Kinks and Curls is hosting Duafe Designs on Saturday, September 24th from 1-5pm.
What are African Waistbeads? Waist beads are an adornment of beads, strung with thread, wire, or natural cords, and worn low around one's waist. Waist beads particularly worn by women & girls is a popular custom believed to have originated in the Old Kongo Empire in the central region of Africa. They are worn by all ages & sizes from birth to transition, as a symbol of femininity, beauty, and protection throughout the continent of Africa and beyond. Traditionally, they are adorned with special beads made of clay, glass, wood, crystals, gemstones , & colors thought to have healing powers. Today, waist beads are becoming more popular than ever as women across the globe continue to embrace African social cultures & grow to love & adorn their bodies regardless of shape or size.A variety of pre-made selections will be offered. Most waist bead selections range from $15 per strand and up. Strands which can fit sizes 0-30 in pant size. Get a sneak peak at some of Ayodele's selections, or to make special requests prior to your event by visting her her social media at www.facebook.com/Waistbead and www.duafedesigns.com     
Ayodele is the gifted Bay Area, California artist, designer, and visionary behind DUAFE Designs, Unlimited LLC, who specializes in one-of-a-kind waist beads, natural shell jewelry, and eclectic handbags. Ayodele is a self-taught artist who was groomed by a host of mothers on a mission to positively advance their daughter's horizons, aka "Sisters of Tomorrow," a rites of passage program for girls.  Her business sense and savvy was further molded while studying Business Management at Howard University. With a keen eye and talent for design, she finds joy creating wearable art that transforms the everyday woman into a Queen, and aims to design pieces that heal, encourage, honor, and beautify the mind, body, and spirit.