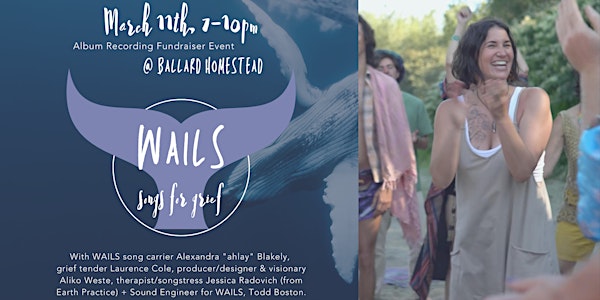 WAILS: Songs For Grief @ BALLARD HOMESTEAD
Fundraiser Event - "WAILS: Songs For Grief" by Alexandra Blakely with Laurence Cole, Earth Practice, Aliko Weste and more @Ballard Homestead
When and where
Location
Ballard Homestead 6541 Jones Ave NW Seattle, WA 98117
Refund Policy
Refunds up to 7 days before event
About this event
Fundraiser for Album "WAILS: Songs For Grief"
Join us for an evening that deepens us into the upcoming album, WAILS: Songs for Grief with its visionary Alexandra Blakely & friends. The album is inspired by the five gates of grief from Francis Weller's book, "The Wild Edge of Sorrow." Come learn some of the songs from the album, listen to some of the poetry from the album and witness a panel on grief and the WAILS project with Alexandra "ahlay" Blakely, grief tender Laurence Cole, therapist/songstress Jessica Radovich (from Earth Practice) + Sound Engineer for WAILS, Todd Boston moderated by producer/designer & visionary Aliko Weste.
There will be hot drinks (cacao + adaptogenic) for sale throughout the evening.
We will actively be raising funds during this event.
Children welcome!
To learn more about WAILS: Songs for Grief, visit the gofundme.
—-----------
"Alexandra "Ahlay" Blakely (she/her) is a song carrier remembering that which was meant to be forgotten in her lineages: song technology as connective tissues of the communal body.
She blends song, body percussion, dance, stillness, breath & silence with the deepest intention to support others in remembering their inherent birthright to singing and rhythm.
Her ancient ancestors of Old Europe (Ashkenazi, Scandinavian, Finnish, English, Scottish, Irish) sang while building, creating, birthing, working & being in reciprocity with the Land. She understands song to be fundamental in the expansion of one's internal capacity to participate in the collective shift towards life-affirming conditions. An underlying prayer in her song offerings is that they may contribute to the shared effort to transform white culture into being more connected with our bodies, emotions, Land & the animate world around us.
These songs are swirls of spells for cracking open, falling humbly to our knees and cultivating more access to the conversations our souls are aching to have with us about their most intimate longings. They are dedicated to the more than human world, the Waters and our Kin in both the seen and unseen realms. We sing to shame, courage, for breaking cycles of intergenerational trauma and for the preparation of being ready for these times we are living in, all while sending these song-beings in ripples through to the ancient and future ones. The songs sung have come directly through Ahlay."
-Artist Bio
@ Ballard Homestead
7p event, 6:30p doors
All ages, mostly seated
--------------------------------------------------
EVENT & VENUE INFO:
Check tickets for show times
Ballard Homestead is ADA accessible
Service animals as defined by the ADA are allowed. Service animals are defined as dogs that are individually trained to do work or perform tasks for people with disabilities.
Please refrain from talking during songs.
Please enter quietly if the show has already begun.
Please leave quietly, it's a very quiet neighborhood. I sense a trend here.
Quiet Picnics Welcome. Big surprise there right?
Light snacks & non-alcoholic beverages may be available for purchase, but no other food or bar service at Ballard Homestead shows.
We have a mix of normal chairs, some tall chairs, and standing room in back.
Seating is not reserved unless noted.
Please limit photos during the show so as to not distract other attendees from the experience.
We are an all ages venue. Kids 10 & under are free at Abbey Arts concerts & arts events unless noted.
Entering the venue indicates agreement to adhere to the Abbey Respect Policy. All are welcome.
--------------------------------------------------
ABOUT ABBEY ARTS, SEATTLE:
NONPROFIT 501C3, NON-RELIGIOUS, EST. 2005
Presenting welcoming music, arts & cultural experiences for people of all ages & incomes.
Home Venue: Fremont Abbey, 4272 Fremont Ave North, Seattle, WA 98103 / 206-414-8325 Ballard Homestead: 6541 Jones Ave NW, Seattle | + South Park Hall, Woodlawn Hall Greenlake, UHeights Auditorium (UDistrict), St Mark's Cathedral (Capitol Hill), & more
--------------------------------------------------
See Updated Public Health Safety Info at the bottom of this page under Abbey Arts Presents. All Abbey Arts venues adhere to WA State & King County health guidelines. Thanks for helping keep our community safe!
--------------------------------------------------