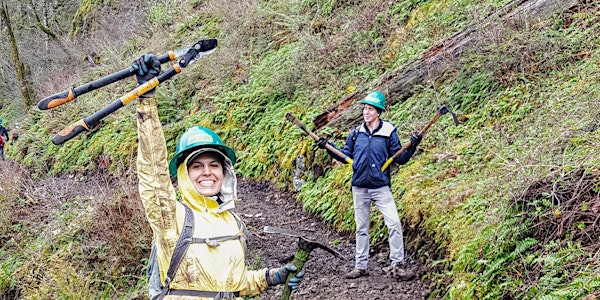 Wahclella Trail Party
Join TKO as we perform seasonal brushing on the Wahclella Trail!
When and where
Location
Historic Columbia River Highway State Trail - Tooth Rock Trailhead J3M2+MM Cascade Locks, OR 97014
About this event
Crew Leader: Alison
Max Size of Crew: 8
Hike Distance: approx 2 miles round trip
Elevation Gain: (in ft) approx 1000
Hike Difficulty: Easy/Moderate
Work Difficulty: Easy/Moderate
Work Description: Brushing and debris removal from Wahclella Trail
Project Overview:
Expect to use loppers and hand saws to brush, and grub tools to mitigate slough and re-establish narrow tread.
Hiking information:
We will be hiking in from the Tooth Rock trailhead, and working on the brushiest sections of Wahclella Trail.
What to expect:
You will be asked to electronically sign the e-waiver for this event and perform a self-assessment health screening within the 24 hours proceeding the event. The crew leader for this event will verify that you have done both of these requirements at the trailhead before the party begins. Your pre-event emails will contain further details and links for both of these requirements.
You should expect to participate in this work party for its entirety. For safety reasons, please do not arrive late or expect to be able to leave early.
What to bring:
Lunch
Plenty of water (at least 2 liters)
Snacks
Gloves if you have them (loaner gloves available)
What to wear:
Boots (Please wear something sturdy that will protect your toes from sharp tools. No tennis shoes allowed!)
Work gloves (loaner gloves available)
Long sleeved shirts and pants.
Rain gear as appropriate for the weather
TKO will supply hard hats and safety glasses
Directions:
Directions will be provided 48 hours prior to the event.
COVID-19 Procedures **Please follow all civil authority restrictions for your community. **
In accordance with civil authority restrictions and land manager requirements for safety considerations, the following policies are currently in place:
• All volunteers will watch in the TKO COVID-19 Safety Lab, a broad safety orientation of TKO Safety Policy & Procedures for a COVID-19 Environment. Link will be provided in your registration confirmation.
• All volunteers must administer a health self-evaluation prior to attending in-person volunteer events (https://www.cdc.gov/coronavirus/2019-ncov/symptoms-testing/symptoms.html).
• All volunteers will read and sign the TKO Volunteer Waiver updated for COVID-19 for release and indemnity of TKO and the land manager partner. Link will be provided in your registration confirmation.
• Volunteers must bring their own gloves, cloth masks, hand sanitizer, and hardhat.
• Tools will be sanitized prior to the event, and will not be shared throughout the day.
• No carpools will be arranged by TKO for the time being.
For a complete list of Covid specific safety measures, see our safety manual, available here.
LAND ACKNOWLEDGEMENT: TKO recognizes that the trails we work on travel through the traditional lands of many Indigenous tribes. In every corner of what we now call Oregon, these people were forced to cede their land, their home, to the US government at various times from 1853 - 1871. We are privileged to be here today & express gratitude to the descendants of these tribes for being the original stewards of this land.
EQUITY & INCLUSION: TKO seeks to make Oregon's trails a place where people can go to connect with nature & one another. Not everyone feels safe & welcome in the outdoors due to racism, bias & hate. We commit to being part of the solution to change that. Conduct, speech, or expressions that target individuals or groups will not be tolerated by TKO, regardless of whether they are based on age, citizenship, disability, ethnicity, gender identity/expression, geographic origin, language, marital status, nationality, race, religion, sexual orientation, or socioeconomic status.
PERSONAL SAFETY: Your physical & emotional safety is our number one priority. If a person's actions or comments make you feel uncomfortable/unsafe - interrupt directly, tell a crew leader &/or complete the post-event survey.