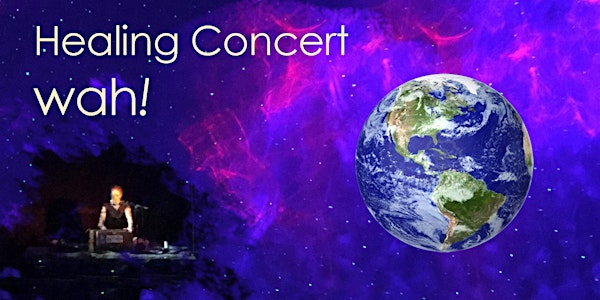 Wah! Healing Concert (Second Showing) (LAST YEAR)
When and where
Location
Bishop Planetarium 201 10th Street West Bradenton, FL 34205
Description
2ND SHOW ADDED!
The Healing Concert uses visual and sonic images of our universe to create a feature-length presentation of profound beauty. Slow moving, calming laser lights and visual projections create patterns found in Nature such as constellations in the sky and Northern Lights on the horizon. Wah! performs live, her beautiful voice, loops, delays, and keyboards gently guiding audiences into deep relaxation and rejuvenation. World Peace. Peace Within.
Designed, composed and performed by Wah!, her multi-media Healing Concerts are regularly performed at UC Boulder's Fiske Planetarium, Reuben H. Fleet Science Center in San Diego, Loyola Marymount University (Los Angeles), Franklin Institute (Philadelphia), NJ State Museum in Trenton and in other major cities.
For more info go to: www.wahmusic.com/healing_concert.php
Please join us on the Facebook event page.
This event is locally produced by Ocean of Sound Productions and sponsored by The Village Mystic in Bradenton and Elysian Fields in Sarasota

There are two other Wah! events in Sarasota:
January 3rd Special Yoga Workshop at Prana Yoga and Healing Center

January 4th Kirtan at Garden of the Heart Yoga Center
More information about these events is at www.oceanofsound.org

*. *. *. *. *. *. *. *. *. *. *. *. *. *. *. *. *. *. *. *. *. *. *. *.
(bio) Wah! has been working in the field of personal development for over 25 years and has published books on yoga and healing. She has lectured at Princeton University, Loyola Marymount University, performed with Deepak Chopra, Wayne Dyer, and taught at Omega Institute and 1440 Multiversity. She's been featured in Ladies Home Journal, Mantra Yoga & Health Magazine and Yoga International Magazine. She teaches workshops, yoga teacher training modules and performs Healing Concerts in planetariums and theaters across the country.
She has lectured at Globe Institute International Sound Healing Conference in Oakland, The Journey Expo in Cleveland, and Soul Foundation in Encinitas. Ladies Home Journal says she has a "natural gift of music to help people with healing." Her women's leadership trainings have been welcomed into communities in Asheville, Los Angeles, San Francisco, Boulder, Atlanta and Charleston. Her CDs have sold over 100,000 units worldwide; if you have taken a yoga class in the last 5 years you have undoubtedly heard her music. In 2011 iTunes featured her with a compilation titled "Greatest Yoga Music Ever."
Doors open at 7:30pm.