Description
Join us for this Saturday Open House:
Wagner's Winter Wonderland: Snowflakes and Stalactites
Saturday, February 8th, Noon to 4 p.m.
Activities include:
LIVE DEMO: Watch molten bismuth turn into rainbow crystals
Free mineral necklaces – make your own!

Crystal gem origami

Snowflake and crystal scavenger hunts and art activities

Use microscopes to see the secret forms of crystals
Come any time between 12 p.m. and 4 p.m. for science and exploration in our yard and museum. Activities are geared toward children 6 to 12, but all ages can enjoy this event.
Free; for those who would like to donate to support our programs, we suggest $10 for adults and $5 for children.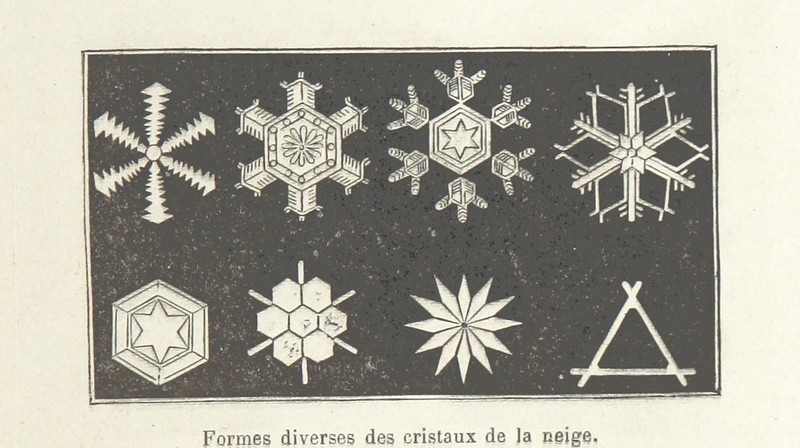 "Diverse forms of snow crystals," from p. 83 of Les Artères du globe ... Illustré de ... gravures et cartes by Paul Brunet, 1888. The British Library.

Organizer of Wagner's Winter Wonderland: Snowflakes and Stalactites
Founded in 1855 in Philadelphia, the Wagner Free Institute of Science is dedicated to providing free public education in science. Its programs include free courses and lectures, field trips and lessons for children and museum tours for all ages. The evening science courses are the oldest program devoted to free adult education in the United States.  The Institute's Museum houses more than 100,000 natural history specimens, a collection begun by founder William Wagner in the early 19th century and expanded by the renowned scientist Joseph Leidy in the 1880s. Completed in 1865, the Wagner's National Historic Landmark building is essentially unchanged since the late 19th century and includes a Victorian exhibition hall filled with fossils, shells, minerals and mounted animal skeletons and skins displayed in original wood and glass cabinets. The Museum is currently open to visitors Tuesdays - Fridays, 9:30 AM to 4:30 PM and on the first Saturday of every month from Noon to 4 PM. The Wagner also offers courses, lectures and events in the evenings, in person and online. Join us!