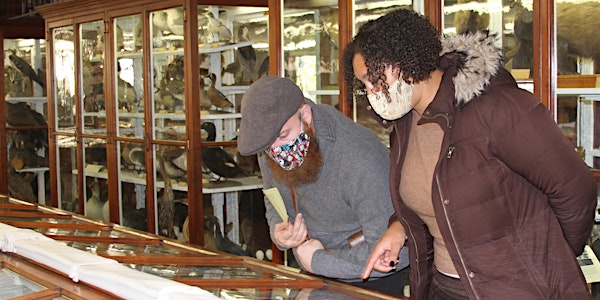 Wagner's December First Saturday Open House Event
Come join us to explore the museum and learn about the history of the Wagner and its collections.
When and where
Location
Wagner Free Institute of Science 1700 W Montgomery Ave Philadelphia, PA 19121
About this event
JOIN US FOR DECEMBER'S FIRST SATURDAY OPEN HOUSE!
Explore the Wagner's collections and its National Landmark building during our December Open House. The Exhibit Hall will be open for self-guided exploration of the natural history collection throughout the day. Go through at your own pace or follow the path of one of our themed scavenger hunts. You can also pick up pencils and paper to draw from the many specimens on display.
If you want to learn more about the museum and how it became a National Historic Landmark, join us in the Lecture Hall at 2PM for an illustrated talk by Susan Glassman, Wagner's Executive Director.
Our gift shop is stocked for the season with unique finds for all the museum geeks on your holiday shopping list! We have everything from vintage school charts and tea towels to pocket-sized field notebooks to real crystals, minerals, and fossils to add to your own collection.
THINGS TO KNOW FOR YOUR VISIT
• Walk-in visitors are welcome. Advance ticket reservations are appreciated and will speed up your entry to the museum
• For the safety of all our guests, our staff will be masked and we require that all visitors over age 2 are as well
• There is no coat check or place to stow personal items – please travel light
• To protect the specimens and our historic interiors, photography is not allowed in the museum and food and drink are not permitted in the building.
A dream that keeps growing…
In 1855, William Wagner had a dream of providing free science education to anyone who wanted to learn, regardless of background or ability to pay. Today, the Wagner offers more programs to more people than ever before! Your support helps us provide free education, not only through the museum, but through a wide range of courses, lectures, field trips, and children's science programs. Donations also assist us in caring for the museum and library collections and in preserving our wonderful building, which was designated a National Historic Landmark in 1990. To learn more about what we do please visit our website.
TICKET INFORMATION
In keeping with its original charter, admission is free—donations are suggested to ensure the future and quality of Wagner's free education programs and to preserve its National Landmark building and collections.
Suggested Donations
$10/adult
$5/person for college students & children
$0 for Free Admission
For any questions, please email tickets@wagnerfreeinstitute.org or call 215-763-6529 x17.
If you would like to check your membership status or become a member, please email KellyT@wagnerfreeinstitute.org or call 215-763-6529 x11.