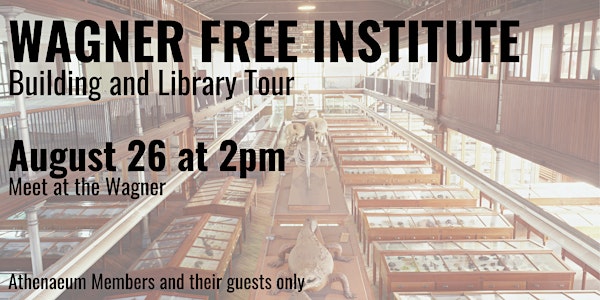 Wagner Free Institute of Science Tour
Private tour with the Athenaeum of Philadelphia
When and where
Location
Wagner Free Institute of Science 1700 West Montgomery Avenue Philadelphia, PA 19121
About this event
Join fellow Athenaeum members for a tour of the Wagner Free Institute of Science.
The Wagner Institute's nineteenth century exhibit hall – a soaring three-story space – houses an extraordinary collection of natural history specimens including mounted birds and mammals, fossils, rocks and minerals, insects, shells, dinosaur bones, and the first American saber-toothed tiger, discovered on a museum-sponsored expedition to Florida in 1886. Gathered largely by founder William Wagner and Institute curators and faculty during the nineteenth century, the collections are displayed in cherry-wood and glass cabinets dating from the 1880s and maintain their original "systematic" scheme, providing a rare view of a Victorian science museum.
The Institute has an extensive library of primarily scientific works collected by the founder, and over the course of its history. Dating from the late 17th to the early 20th century, the collection covers the natural and physical sciences, education, medicine, archaeology and anthropology, the pseudo-sciences, instrument building, and engineering. The Library contains monographs, serials, archives, manuscripts, maps, prints, photographs, drawings, and glass lantern slides. The collection reflects the Institute's curriculum as well as the research interests of its faculty, fellows, and museum staff.
Please meet at the Wagner Free Institute 1700 W Montgomery Ave, Philadelphia, PA 19121