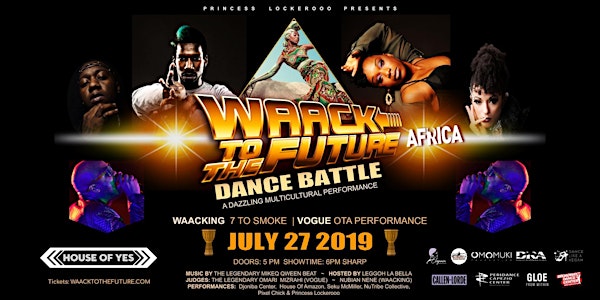 Waack To The Future Dance Battle : Africa
When and where
Location
House of Yes 2 Wyckoff Avenue Brooklyn, NY 11237
Description
WAACK TO THE FUTURE is a dazzling, multicultural celebration. It's a dance battle highlighting the fierce & fabulous dance styles born to the LGBTQ communities: Waacking and Voguing!

Join us for a night of dancing, spellbinding dance battles & performances. Waack To The Future attracts some of the greatest talents from across the globe to contest in an all or nothing dance showdown, as well as featuring a star-studded cast of NY's top choreographers and top tier dance industry judges. This years theme is AFRICA! The final battles will ignite to the sound of live African drumming. Grab a fancy drink, enjoy a vegan treat, strike a pose at the photo booth & make sure to visit our merch tables for some retail therapy!

:::: CATEGORIES ::::
7 To Smoke WAACKANDA Waacking 1 on 1 Battle
In your personalized afro-inspired fashion, prove that you know how to work those Disco classics. Be prepared to shake things up to the beat of the drum for the 7 To Smoke finals.
Cash Prize $300
OTA Vogue Performance
Bring your best vogue performance in African inspired garb. Get ready to twirl to some afro Vogue beats and pay homage to the motherland and creator of Vogue Afrik Legendary Omari Mizrahi. Cash prize $300


:::: CREW ::::
VOGUE JUDGE : Legendary Omari Mizrahi
WAACKING JUDGE: Nubian Nene
HOST : Leggoh La Bella
MUSIC : Legendary Mike Q


:::: PERFORMANCES ::::
Djoniba Dance Center NuTribe Collective OSCAR @ THE CROWN Princess Lockerooo Omari Mizrahi D.N.A AfroHEAT Queen Raveden (Aerial)

Giving back to the community and helping others is a big part of our mission. A portion of proceeds will be donated to DRA(Dancers Responding to AIDS) a program of Broadway Cares / Equity Fights AIDS. Dancers Responding to AIDS relies on the extraordinary compassion and efforts of the performing arts community to fund a safety net of social services for those in need. As a program of Broadway Cares/Equity Fights AIDS, DRA supports the essential programs of The Actors Fund, including the HIV/AIDS Initiative and The Dancers' Resource, as well as more than 450 AIDS and family service organizations in all 50 states, Puerto Rico and Washington D.C. dradance.org facebook.com/DRAdance, instagram.com/DRAdance,
:::: SPONSORS ::::
OMOMUKI FOUNDATION "Thank you to New York City's Omomuki Foundation for supporting dancers, musicians, and working to end the AIDS epidemic."

DANCE LIKE A VEGAN : All vegan shoes, all in one place.
ALOE GLOE : "Aloe Gloe is a low calorie, low sugar, and organic all naturally flavored aloe water. It benefits hair & skin rejuvenation, is an anti-inflammatory and aids in digestion!"
https://callen-lorde.org/ Callen-Lorde is the global leader in LGBTQ healthcare.

:::: Doors 5pm | Battle 6pm ::::


18+
::::::: SAFER SPACES POLICY :::::::
House of Yes is a space for everyone to feel welcome. We have a zero-tolerance policy for harassment, unwanted touched, homophobic, transphobic, racist, sexist, ableist, or ageist behavior. Always ASK before touching anyone at our events. If someone is making you uncomfortable or harassing you, please come speak to a security guard or ask for a manager. We will believe you, and we will help. All restrooms in our venue are gender-neutral. Everyone is free to use the restroom that best fits their gender identity or expression. All entrances and spaces within the venue are single-level. There are stairs leading to the upper portions of the stage, for those who wish to dance in the spotlight. Strobe lights are used during performances and parties. Questions about our consent policy or procedures? Email consent@houseofyes.org.
#BESTSHOWSEVER