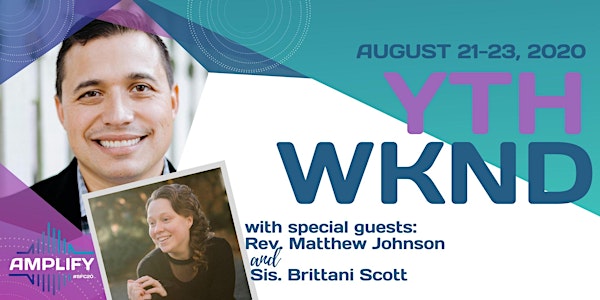 WA DISTRICT YOUTH WKND 2020
WA YOUTH WKND 2020 will take place Aug. 21-23, 2020 with a combination of online and onsite services that will take place across WA!
About this event
AUGUST 21, 2020 ONLINE SERVICE:
Follow WA District Youth on Facebook or YouTube for our August 21st online youth service with guest worship leader and recording artist, Brittani Scott, and guest speaker, Rev. Matthew Johnson!
AUGUST 22, 2020 SECTIONAL YOUTH SERVICES:
REGISTRATION-ONLY EVENT: These services will only be for registered attendees, ages 12-35. This is due to capacity restrictions.
Section 1 - Victory Pentecostal Church in Mt. Vernon, WA - 7:00pm
Section 2/4 - Sound Life Church in Bremerton, WA - 2:00pm
Section 3/5 - Tower of Pentecost in Richland, WA - 2:00pm
ABOUT COVID-19 GUIDELINES:
Each event will be following WA guidelines when it comes to indoor and outdoor services. We are encouraging all attendees to wear a mask give the state mandate and abide by the social distancing guidelines.
GOT QUESTIONS? Email us at: wadistrictyouth@gmail.com