WAYCON is a youth convention hosted by Washington Youth Department of the WA District United Pentecostal Church International.
About this Event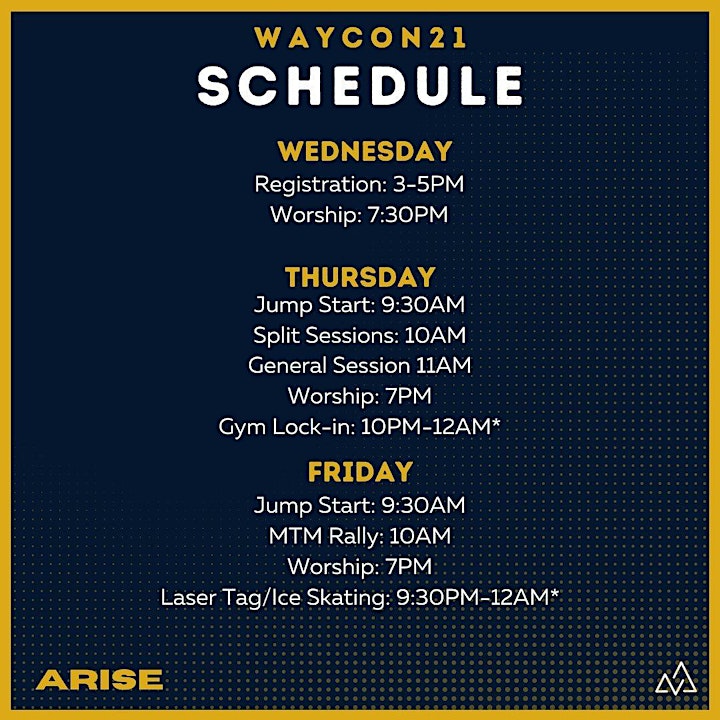 AFTERBURNER INFORMATION:
Thursday PM Afterburner will be a gym lock-in from 10pm-12am at the Marvin Williams Center in Bremerton. Pizza and drinks will be served. This afterburner will be $10 and open to all attendees. (Chaperones, please bring this waiver if your youth sign up. Ages 18+ must fill out their own waiver.)
Friday PM Afterburner will have TWO options for afterburners from 9:30pm-12am. Attendees may only choose one afterburner to attend, so message your friends and find out which one they're going to!
OPTION 1 - Ice Skating - $10 (Please bring this waiver if you sign up.)
OPTION 2 - Laser Tag - $10
Due to capacity limits, we can only have 100 people in the ice skating rink and 100 people at Sound Life Church for Laser Tag.
ORDER NOW ON EVENTBRITE TO SAVE TIME AND SKIP THE LINE:)
COVID-19 WAIVER:
All in-person attendees must fill out this COVID Waiver.
Students under the age of 18 must have a signature by their parent/legal guardian.
IN-PERSON REGISTRATION: FULL
Registration for WAYCON is full. Only registered attendees with registration badges will be admitted to the services.
We are thrilled to be hosting an in-person event, and we are expecting a powerful move of God. To ensure that we are doing our best to be safe, we've taken the following precautions:
The event will be registration ONLY. All students, counselors, youth leaders, pastors, and guests will need to register through Eventbrite.
There will be limited seating in the Sound Life Church sanctuary. Once registration has met capacity, we will not accept any more attendees.
All attendees will be asked to follow state guidelines for face coverings, and temperatures will be taken upon entrance to each service.
LIVESTREAM INFORMATION:
Every evening sessions will be livestreamed on Facebook and Youtube. More information coming soon!
Wednesday PM General Session - 7:30pm (PST)
Thursday PM General Session - 7:00pm (PST)
Friday PM General Session - 7:00pm (PST)
HOTEL ROOM BLOCK:
Our WAYCON room block ended on Monday, February 15, 2021. Parking at Bremerton Fairfield Inn and Suites is $10 per evening per vehicle.
BEFORE WAYCON:
● WA Youth will host an informational live broadcast to communicate clear details on safety measures to take before, during, and after the event.
● Social media images will be shared that encourage wise practices before, during, and after the event. These posts will detail out our plan in writing to ensure all attendees have up to date information.
● Individual Registrants - Please note that you will receive a COVID waiver via email to sign about two weeks out from WAYCON.
● We ask that that all attendees monitor their interactions for the week leading up to the event, and not to attend if they develop any symptons or come in close contact with anyone who has tested positive for COVID.
DURING WAYCON:
● Attendees are asked to comply with state guidelines (i.e. masks, social distancing, proper hand washing, etc.)
● Groups are asked to sit together in sections spaced out from other attendees, and we recommend that students stay within their group during worship and altar call.
● Group chaperones will be responsible for making sure student health needs are facilitated.
AFTER WAYCON:
● We ask that attendees monitor their interactions after the even concludes.
● We ask that students and leaders moniter their health and any potential symptons before returning to their respective congregations or church services.
Please email youth@waupc.net if you have any questions.