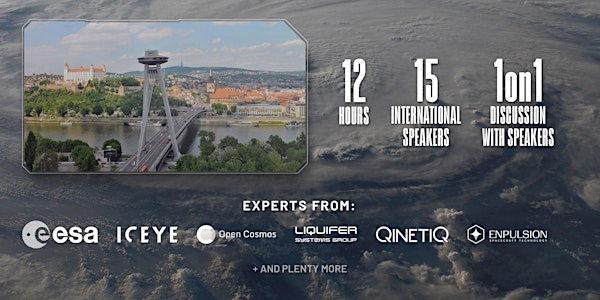 VýťahConf. - Space Industry Conference.
When and where
Location
Mlynica Turbínová 13 Bratislava Slovakia
Description
DISCOVER SPACE OPPORTUNITIES

Get the overview of current and future space technologies.
For every technologist, geek, and entrepreneur.
---
VytahConf. is a place for networking and joining the space race! Our goal is to connect potential newcomers, startups, small and mid-size companies from space industry with big international players. By showcasing the opportunities for individuals or companies and developing meaningful connections we are building opportunity for anyone who would like to be part of the journey.
VytahConf. is primary for hardware and software developers, material scientists or anyone with a real desire to work in this field. One of the main topics of the conference is how to join the space industry, for who to work or what are the challenges worth working on.
The conference is organized by volunteers with love and huge plans for leaving the Earth!
Join us and jump in the rocket!
---
Confirmed speakers:
Les Johnson - Author and Futurist, NASA scientist
Christophe Lasseur - Head of MELiSSA project - European Space Agency
Antonio Del Mastro - President & Project coordinator - Mars Planet
Zainab Saleem - Aerospace engineer - ICEYE
Tomas Rousek - Space Architect - XTEND London
Barbara Imhof - co-founder and CEO - LIQUIFER Systems Group
Daniel Sors Raurell - Aerospace engineer - Open Cosmos
Frank Preud'homme - Sales and Business Development Director - QinetiQ
Alexander Reissner - Founder and CEO - ENPULSION
Darot Dy - Manager - Space - PwC Advisory
William Carbone - Chairman of Technical Experts Council CZ/SK - IBM
Marek Aldorf - ESA BIC Prague Programme Manager
Jakub Brogyányi - Aerospace Engineer, OHB System AG
Oana Van Der Togt - Senior Business Developer and Account Manager ESA and NASA, TNO
Special guests:
Ivan Bella - The first and only Slovak Astronaut
Jan Balaz - Senior scientist - Slovak Academy of Sciences
Jakub Kapus - Project Leader, creator - skCUBE