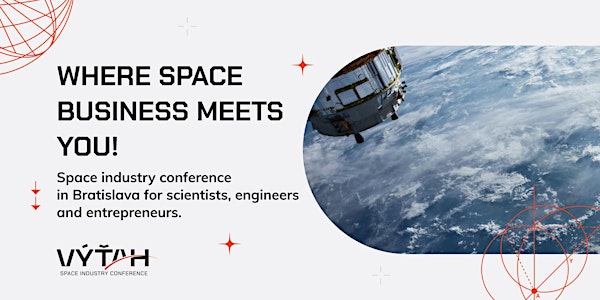 VýťahConf. - Space Industry Conference.
Space industry is booming. Do not miss your chance to join the race. Learn from 15 international speakers on stage and 300 visitors.
Refund Policy
Contact the organizer to request a refund.
About this event
Conference will be physical (on-site) without live streaming.
Today's world runs on space tech. GPS, modern telecommunication, weather forecasts, rare earth elements extraction & even stock market predictions are some of the many things directly enabled or transformed by the space industry.
With SpaceX and other projects on the horizon, the logistics of space missions are becoming more and more affordable for smaller companies and projects. The space is opening to smaller and smaller players.
VýťahConf. is aming to get you the overview of current and future space technologies, opportunities for the individuals, teams and whole companies.
Understand how you can use space innovation in your business carrer or how you can join the race and participate in space innovations by yourself. Oportunities there are endless.
VýťahConf. is ideal conference for every technologist, geek, and entrepreneur.
---
Organized by volunteers with love and huge plans for leaving the Earth!