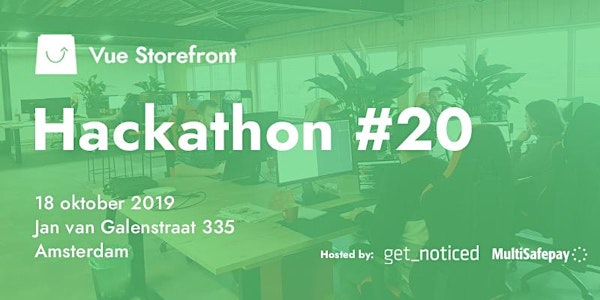 Vue Storefront Hackathon Amsterdam (Second Edition)
When and where
Location
Jan van Galenstraat 335 AZ 1061 Amsterdam Netherlands
Description
On Friday 18th Oct, Get.Noticed and MultiSafepay are hosting the second Vue Storefront Hackathon at The Student Hotel Amsterdam West in Amsterdam. Or join us remotely on Slack (See below)!
Official websites:
Get.Noticed: https://www.getnoticed.nl
MultiSafepay: https://www.multisafepay.com
You might know Get.Noticed from our work on Major Rum, a webshop built on Vue Storefront with a Magento 2 backend and Mollie Payment integration.
MultiSafepay is a collecting payment service provider which means they take care of the agreements, technical details and payment collection required for each payment method. You can start selling online today and manage all your transactions from one place.
Signup via Eventbrite!

Contact: support@getnoticed.nl

Vue Storefront is a standalone PWA storefront for your eCommerce. It allows you to connect with any eCommerce backend (eg. Magento, Pimcore, Prestashop or Shopware) through the API. Vue Storefront is open source, which anyone can use and support the project. We want it to be a tool for the improvement of the shopping experience.



⏰ Here's the schedule:
9:00–9:30 — Official welcome
9:30-11:00 — Presentations from Get.Noticed, MultiSafePay and Vue StoreFront
11:00–12:00 — Let the coding begin
12:00-13:00 — Lunch break (Free Food and Drink)
13:00–17:30 — Coding to be continued
17:30 — Networking

➡️ The core front-end team will be available for questions on the Slack channel. Invite link;
http://slack.vuestorefront.io/
https://twitter.com/VueStorefront
➡️ Sander Mangel (Technology Leader and Magento Master) will be available in Amsterdam at the Hackathon for questions.
Travel info