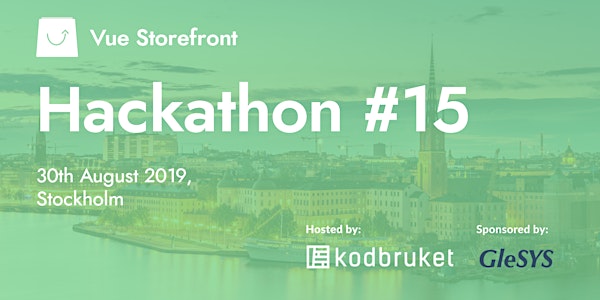 Vue Storefront Hackathon #15 Stockholm
Welcome to the 15th Vue Storefront Hackathon. Hosted by the first Vue Storefront Core Partner in the Nordics; Kodbruket!
When and where
Location
Johan & Nyström 7 Hantverkargatan 112 21 Kungsholmen Sweden
About this event
On Friday 30th August, Vue Storefront Core Partner Kodbruket is hosting the 15th Vue Storefront Hackathon. Core developers from Vue Storefront will join us in Stockholm for a day of VS training and coding. We are also joined by sponsor Glesys.
✏️Sign up via Eventbrite!
Vue Storefront is a standalone PWA storefront for your eCommerce. It allows you to connect with any eCommerce backend (eg. Magento, Pimcore, Prestashop or Shopware) through the API. Vue Storefront is open source, anyone can use and support the project. We want it to be a tool for the improvement of the shopping experience.

Official website: https://vuestorefront.io/events

Contact Vue Storefront: contributors@vuestorefront.io
⏰ Here's the schedule:

8:30–9:00 — Official welcome

9:00–12:30 — VS training + Let the coding begin
12:30–13:30 — Lunch break 

13:30–16:30 — Coding to be continued

16:30–17:00 — Recap 

17:00 –17:30— Beer + networking

➡️ The VS core front-end team will be available for questions on the Slack channel. Invite link; http://slack.vuestorefront.io/

https://twitter.com/VueStorefront
A special thanks to our sponsor Glesys for making this Hackathon possible! Interested in sponsoring the Hackathon? Contact hej@kodbruket.se!
🤓Not a hacker, but interested in Vue Storefront? We have time slots during the Hackathon available to get a presentation of Vue Storefront and our sponsors. Contact hej@kodbruket.se for more information.