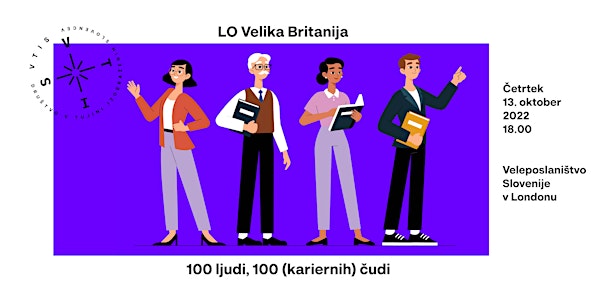 VTIS Velika Britanija: 100 ljudi, 100 (kariernih) čudi
Dogodek ob začetku študijskega leta, četrtek, 13. 10., ob 18.00.
When and where
Location
Embassy of Slovenia 17 Dartmouth Street London SW1H 9BL United Kingdom
About this event
Drage VTISovke in VTISovci!
Veleposlaništvo Republike Slovenije v LondonuDruštvo VTIS te vabimo na dogodek ob začetku študijskega leta, ki smo ga naslovili ''100 ljudi, 100 (kariernih) čudi''. Dogodek bo v četrtek, 13. oktobra 2022, ob 18.00 na slovenskem veleposlaništvu v Londonu.
V uvodnem delu programa bo prisotne pozdravila ga. Simona Leskovar, veleposlanica Republike Slovenije v Londonu.
Z nami bodo trije navdihujoči govorci s treh zanimivih področij. Predstavili nam bodo svojo karierno pot in primere dobre prakse, s katerimi so se srečali na svoji karierni poti, pa tudi nekaj o področju, na katerem delajo.
Predstavili se nam bodo:
Pridruži se nam, če bi rad/-a slišal-/a zgodbe in izkušnje z različnih kariernih poti in poklicnih področij, razloge zakaj se zanje odločimo in kako tam pristanemo - mogoče po vnaprej začrtani poti ali pa čisto po naključju.
100 ljudi, 100 (kariernih) čudi je priložnost, da se Slovenci v Veliki Britaniji podružimo in delimo zgodbe svojih kariernih poti, kaj vse smo se na tej poti naučili in kako se poklicne poti razlikujejo med Slovenijo in VB.
Mogoče boste dobili navdih za nov korak ali na dogodku spoznali koga s svojega področja, ki vam lahko pomaga pri tem naslednjem koraku.
PRIJAVE SO OBVEZNE zaradi omejenega števila udeležencev.
Vljudno vabljeni!
Veleposlaništvo RS v Londonu & Društvo VTIS & LO Velika Britanija (Alina Schneider)