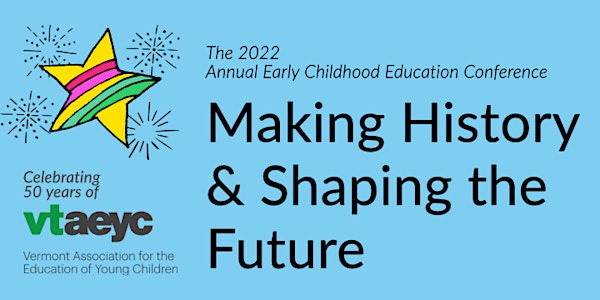 VTAEYC Annual Early Childhood Education Conference
Location
Hilton Burlington Lake Champlain
60 Battery Street
Burlington, VT 05401
Refund policy
Refunds up to 30 days before event
Two powerful in-person conference days to re-engage with your colleagues and re-energize your professional practice.
About this event
Two powerful in-person conference days to re-engage with your colleagues and re-energize your professional practice. Together, we'll hone our skills to shape the future for children, families, and ourselves through keynotes and hands-on workshops. And we'll celebrate the history we've made together as VTAEYC turns 50! With a focus on imagination and creativity, you'll leave inspired and better prepared as educators and leaders to tackle the day's challenges and advance excellence and equity in early childhood education.
VTAEYC is celebrating its 50th anniversary in 2022. In the early 1970's, a group of early childhood educators recognized the need for a professional network in Vermont to represent and support the broad range of professional roles in early childhood education. Since then, VTAEYC members have come together to offer ongoing professional development, support the growth of the early childhood education workforce, build public awareness of early childhood education, and advocate for young children, their families, and themselves. We invite all who care about young children and early childhood education to join us.
We are offering over 35 workshops over the course of the two days. You will need to select the workshops you want to attend when you register for the conference. Click here to read the workshop descriptions. Some workshops have limited space. All workshops are first come, first serve.
Hotel and Parking Information: There are a limited number of discounted rooms available for purchase at the Hilton Burlington Lake Champlain. If you are interested, please contact conference@vtaeyc.org for more information. There are many other hotels in the Burlington and Greater Burlington area to choose from, many of which will likely be less expensive than the Hilton, especially those outside of Downtown Burlington. There is a city parking garage attached to the Hilton (entrance to the hotel via skybridge on the 3rd floor), with plenty of available parking. The daily rate to park is $8 per day. You will need to pay for parking at one of the kiosks located throughout the garage or download and pay via the ParkMobile app.
About VTAEYC: The Vermont Association for the Education of Young Children (VTAEYC) advances equity and excellence in early childhood education with early childhood educators as our foundation. VTAEYC is the state affiliate of the National Association for the Education of Young Children (NAEYC), the nation's largest membership organization of early childhood education professionals. As a nonprofit membership organization with a small staff, a dedicated Board, and a collaborative approach, VTAEYC provides resources and advocates for policies that move early childhood education forward now and for the future.