VTA Diversity Program Business Expo

Tuesday, June 14, 2016 from 10:00 AM to 2:00 PM (PDT)
Event Details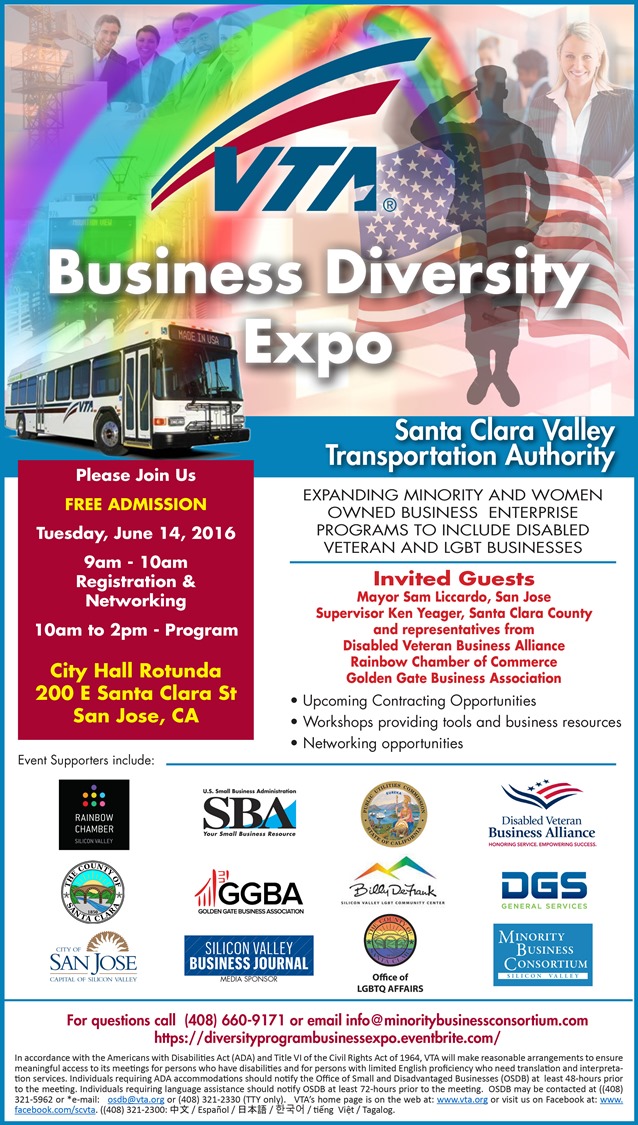 Presented by Santa Clara Valley Transportation AuthorityOffice of Small and Disadvantaged Businesses
 Please join us in celebrating Santa Clara Valley Transportation Authority's new Business Diversity Program! The program has expanded from Women-and Minority-owned businesses to now include LGBT and Disabled Veteran owned businesses. This historic program is focused on providing equal opportunity to diverse businesses as they compete for millions of dollars in public contracting opportunities. All businesses are invited to attend and registration is free! 
THE BUSINESS DIVERSITY EXPO WILL FEATURE:
 

A look at upcoming contracts

 How to do business with the City of San Jose, the County  of  Santa Clara and VTA

 

Tools and business resources

 

Networking opportunities

 
INVITED GUESTS:
Supervisor Ken Yeager, Santa Clara County
Mayor Sam Liccardo, San Jose
Mike Sabellico, Executive Director, Disabled Veteran Business Alliance
Jim Robinson, Arktos Inc., DVBE certified, past President of Disabled Veteran Business Alliance
Roark Clayton, Rainbow Chamber of Commerce
Paul Pendergast, Golden Gate Business Association
 and others!
EVENT SUPPORTERS:
City of San Jose  
Small Business Alliance
Rainbow Chamber of Commerce  
Disabled Veterans Business Alliance  
Billy DeFrank LGBTQ Community Center 
Santa Clara County, Office of LGBTQ Affairs, 
Department of Governmental Services
Golden Gate Business Association
Silicon Valley Business Journal 
Minority Business Consortium
Don't miss this exciting event and the prospect for greater contracting opportunities!
 For assistance or inquiries please call the Minority Business Consortium at  (408) 660-9171 or info@minoritybusinessconsortium.com.
WHO SHOULD ATTEND?
GENERAL

Advertisers/Advertising

Auditing& Accounting

Banking& Investments

Bus Towing Services

Calibration Services

Car Wash/Bus Wash Services

Drug& Alcohol Testing

Economic Analysis

Employee Assistance Programs

Graphic Communications/Photography

Graphics Illustrators/Architects

Hazardous Materials Handling

Information Systems and Consulting

Intelligent Transportation Systems

Janitorial Services

Legal Services

Management Consulting

Marketing/Public Relations

Other Miscellaneous Services

Parking Management Services

Performance and Customer Service   Surveys

Phone Services

Physicians& Medical Practitioners

Printing, mailing, reproduction

Public Finance and Financial Planning

Salt Dumping Services

Shredding Products and Services

Substance Abuse Counseling

Tank Cleaning Services

Temporary Personnel Agencies

Training Programs

Transit Security

Uniform Rental Services
 
 

 

ENGINEERING/CONSTRUCTION:

Aerial Photogrammetry

Acoustical Design & Engineering

Architecture

Civil Construction

Community& Economic Development

Construction Management

Concrete Contractors

Construction Support

Cost Estimating

Civil Engineering

Electrical Contractors

Electrical Engineering

Environmental Engineering/Planning

Facilities Construction

Facilities Design and Engineering

General Contractors

General Design

Geotechnical Engineering

Hydrogeological Engineering

Land Survey Services

Landscape Architecture

Landscaping Contractors

Mechanical Contractors

Mechanical Engineering

Plumbing Contractors

Program Management & Project   Controls

Rail Conceptual Engineering

Real Estate & Right of Way

Other Construction Specialty   Contractors

Structural Engineering

Systems Engineering

Transportation Planning
 
 

 

GOODS:

Adhesives, Sealants

Audio Visual Products

Building hardware, supplies and tools

Bus/Vehicle Wraps

Bus parts

Cleaning Chemicals

Communications equipment or supplies

Computer hardware or software products

Equipment Maintenance and Service

Fare Media/Tokens

Florists

Food, Catering

Fuel and Lubricants

Janitorial and Cleaning Supplies

Light Rail Parts

Marketing& Promotional Goods

Material handling equipment

Medical products

Modular Furniture

Moving and Storage

Office supplies, furniture and   equipment

Other Miscellaneous products

Paint& Painting Supplies

Printing, mailing, reproduction

Rail, Track-work

Safety or Hazmat products

Signage (Indoor/outdoor)

Uniforms and Linens

Vehicles, Non-Revenue

Vehicles, Revenue (buses, rail cars)

 
When & Where

San Jose City Hall - Rotunda
200 E Santa Clara Street
San Jose, CA 95113


Tuesday, June 14, 2016 from 10:00 AM to 2:00 PM (PDT)
Add to my calendar
Organizer
Minority Business Consortium
The Minority Business Consortium was established to address the needs of Minority and Women-owned small businesses seeking opportunities in public and private-sector Supplier Diversity programs or their Local and Federal government procurement opportunities. Our efforts strengthen, Women and Minority Businesses and Trade organizations.
For more information, visit MBC online at www.minoritybusinessconsortium.com
ph:  (408) 660-9171
VTA Diversity Program Business Expo