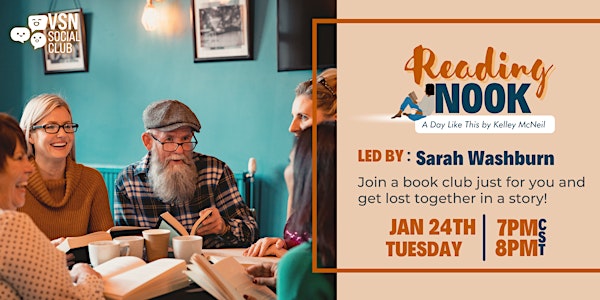 VSN Reading Nook
Let's get on the same page with a heartwarming VSN book club event. Connect and Share with military/veteran spouses
By Veteran Spouse Network
When and where
Date and time
Tuesday, January 24 · 5 - 6pm PST
About this event
Let's get lost together in a story! The VSN offers many fun and enriching social club options. Peer leader, Sarah Washburn, describes her passion for reading. Sarah: I love to read and enjoy what I read even more when I am able to discuss the book with a friend. To start us off, I have chosen the book: A Day Like This by Kelley McNeil.
A Day Like This: What if everything you've ever loved, ever known, ever believed to be true... just disappeared? Annie's whole world gets turned upside down after an accident and learns the child she was sure she had, never existed. It's a story of coping, questioning everything, persevering, and sure to inspire some great discussions. This event will start as a one time event, but if there is an interest the group may elect to continue or switch to another book.
This event is online and scheduled for one hour via zoom. To be eligible for this seminar you must be affiliated with the military: the spouse, partner, caregiver, or family member of an active duty service member or post-service veteran, the family member or individual widowed or divorced from an SM or Veteran.
Eligibility for our Social Clubs varies by session, so please check our Eventbrite page to see other social clubs that may interest you.