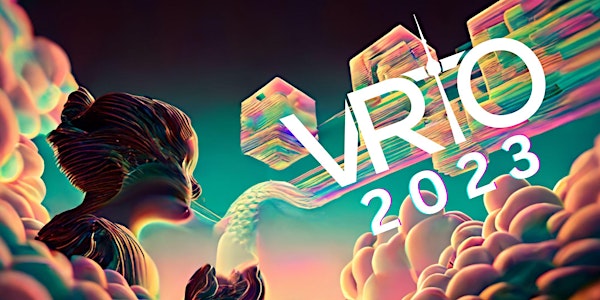 VRTO 2023 Spatial Media World Conference
Canada's leading Virtual Reality, Augmented Reality, WebXR, Virtual Production, generative AI conference and expo returns in-person!
By VRTO in association with Constant Change Media Group, Inc.
Date and time
Wed, Jul 19, 2023 11:00 AM - Thu, Jul 20, 2023 7:00 PM EDT
Location
130 Queens Quay E e tower 130 Queens Quay East Floor 4R Toronto, ON M5A 0P6 Canada
About this event
1 day 8 hours

Mobile eTicket
VRTO Spatial Media World Conference 2023
Where Fresh Ideas Are Born
Now its 8th year, the award-winning, critically-acclaimed, industry insiders' favourite show returns live to Toronto for a special 2-day event in the heart of the city, along the waterfront.
A unique, international spatial media conference, exploring Virtual Reality, Augmented Reality, Artificial Intelligence and Machine Learning, programming, game developments, arts, culture and science through immersive technologies featuring in-depth training, structured networking and a world-class symposium on the evolution of a new medium.
Wed. & Thurs. July 19-20, 2022 | Toronto, ON
This conference is for you if you are curious about 3D arts, Virtual Reality, Augmented Reality, generative AI, education and training, simulation and dataviz, Web3D and social VR, video development and immersive design, the "Metaverse" thing that everyone is talking about, virtual conferencing, AI-generated content, filmmaking, chatbots and virtual humans, ethics and accessibility and much more.
It is for you if are an experienced developer, game designer, neuroscientist, real estate agent, doctor, philosopher, researcher, marketer, educator, student, startup, investor, psychonaut, astronaut, astrologer, inventor, early adopter, consumer, decision-maker, journalist, VC, storyteller, content creator, human being.
There will be 3 tickets sales phases:
Limited Quantity Discount phase 1: $150.00 - 15 available
Limited Quantity Discount phase 1: $250.00 - 15 available
Standard Price: $325.00
Featured discussions include the following topics:
Virtual Humans & Production | AI, GPT-3, GANs, ML, Processing, Image to Text, Computer Vision, Chatbots | Marketing, Retail, & Commerce | The Spatial Web | Immersive Game & Experience Design | Live Performance & Events in Virtual & Hybrid Worlds | The Future of Work & Play | Education, Training, Metrics & Analysis | Accessibility, Neurodiversity, Design & Communications | Health, Data Capture & Visualization | Enterprise | Law, Ethics, Privacy and much more!
"The greatest VR conference in the world (and I've been to a few, believe me)! ~ Brett Leonard, Director - Lawnmower Man
TICKETING
Limited tickets at a heavily discounted price go on sale at the same time as full-priced tickets - get tickets early for deeper discounts, while supplies last! Once they are sold out, tickets will be available at the final full price.
Special VIP packages includes the full 2-day conference pass, VIP delegates digital goodie bag, priority registration and special events entry where applicable, and access to the VIP networking lounge (a safe and secure place to meet other VIPs, chat with speakers, or do some work, with coffee and craft services) throughout the conference. This will be offered exclusively as an upgrade ticket to your Conference pass at a later date.
The Exhibits Hall features a variety of projects and technologies pushing the boundaries of this rapidly expanding, complex, and nuanced industry. Meet game developers, entrepreneurs, scientists and researchers, educators and artists in our interactive gallery! It will be free of charge to visit, and required an Eventbrite exhibits registration (will become available closer to the date of the event)
For additional information on events, see individual ticket descriptions.
Visit the official site for schedules, speakers and events and much more:
https://conference.virtualreality.to
Join us at #VRTO2023 and learn, explore, and find inspiration that you can bring back to your community.
"What a fabulously interesting, thought-provoking, CREATIVE experience this turned out to be. What really makes VRTO stand out is the depth of sustained interaction you get with other attendees" ~ Linda Ricci, Decahedralist Consulting
VRTO HISTORY
Learn about VRTO's history at Wikipedia
PAST SPEAKERS INCLUDE SUCH INDUSTRY VR & AR LEADERS AND LEGENDS AS:
Steve "Spaz" Williams Academy Award winner (The Mask, Jurassic Park, Spawn, Eraser)
Academy Award winner Dave Cardwell (SPINVFX and BrioVR - Lord of the Rings, King Kong, I, Robot)
Philip Rosedale (Founder - Second Life, High Fidelity)
Dr. Steve Mann (Father of Wearable Technology)
Moses Znaimer (creator Bravo, Space Channel, MuchMusic)
Douglas Rushkoff (internationally acclaimed author "Present Shock," "Team Human")
Blake Harris (best-selling author "History of the Future," "Console Wars")
Tipatat Chennavasin (The Venture Reality Fund)
Olivier Palmieri (Game Director & Director of XR Workshop Ubisoft Montreal)
Sarah Vick (Head of Business Development, Intel Studios
Kent Bye (host of the Voices of VR Podcast) 
Brett Leonard  (Director "Lawnmower Man," "Virtuosity")
Emmy-Award winner Christina Heller (MetaStage)
Sara Diamond (Immersive technology pioneer, President of OCAD University)
Ana Serrano (Chief Digital Officer, Canadian Film Centre)
Pearly Chen (Chief of Staff - HTC)
James Jensen (Chief Visionary Officer, The Void)
Emmy-Award Winners Stefan Grambert, Ryan Andall (Secret Location, "Sleepy Hollow")
Joanna Popper (Global Head of VR Location Based Entertainment - HP) 
Frequently Asked Questions:
Are there ID requirements or an age limit to enter the event?
10+ for daytime events. 19+ for industry and press invite-only evening 
What are my transport/parking options for getting to the event?
What is the refund policy?
No refunds, however tickets can be sold/transferred through the Eventbrite account page. Upgrades and changes can  be done for the difference in cost and pending availability.
The name on the registration/ticket doesn't match the attendee. Is that okay?
You must show proof of purchase, and the name/title of the original purchaser will be checked off. It is ok if it does not match attendee name, provided the above items are provided/available. ID and contact information will be required in the event that your name does not match.
Does each ticket need to be registered individually?
The Conference Pass and VIP upgrade will have registered name badges. You can update the information on each ticket in your order (like name, email address, etc.) by clicking the edit link on your order on the Tickets page.  
Is there an exhibits-only pass this year?
No. Exhibits are free but require a wristband, or stamp, and an RSVP. Stay tuned for availability.
Do I have to bring my printed ticket to the event?
No, save a tree if you can, however, we will need to see the ticket/proof of purchase on your digital device.
When I attempt to purchase my ticket - it asks for a TAX ID number, but it isn't being accepted, what should I do?
The number you enter should total 15 characters and may include letters and numbers (for eg. RC or RT) 
The system is not accepting my American Express credit card:
Please enter the 4 numbers on the front of the card (not 3 from back)
Is there student & educator pricing?
Due to limited seating we offer a finite number of Student tickets per phase. Eligible students & teachers (school email, .edu group purchases of 6 or higher may write to request a group discount, pending availability) please email for your discount code HERE or email our ticketing department directly and include your student ID or .edu email. These are granted on a case-by-case basis and as supply allows.
Will there be an online conference? / Can I attend online?
Yes and no. There is no dedicated streaming conference. However, conference attendees will get exclusive access to the show's private Discord server for networking, scheduling, and auxiliary resources.
What restaurants are nearby?
Can I use my promo code for either type of ticket?
I have a promo/discount/coupon code, how do I apply it?
Click the TICKETS button. This will bring you to the ticket selections page where you will find a field where you can enter your promo code. Note that the design may differ between Desktop and Mobile.
Below the ticket types is text ("Enter promotional code") which brings up a box to enter a code, enter here & press the "Apply" button.