VRTO 2020 Virtual Reality & Augmented Reality World Conference
Description


Saturday-June 6th through July 6th, 2020 |VRTO Online Symposium & Summit

We Present the VRTO 2020 Flotilla--a formation of hubs and platforms tethered together to form a powerful multimodal, multidimensional fleet. The Flotilla comprises different spaces, strategies, aesthetics, technologies, and we embrace them all as we strive to move towards an interoperable future.
With the 5th Anniversary VRTO 2020 show we continue our tradition of diving deep to surface treasures from near and far, and will be available on mobile, desktop, and in VR to foster social interaction while bringing the no-holds-barred, thought-provoking presentations and training that VRTO is known for.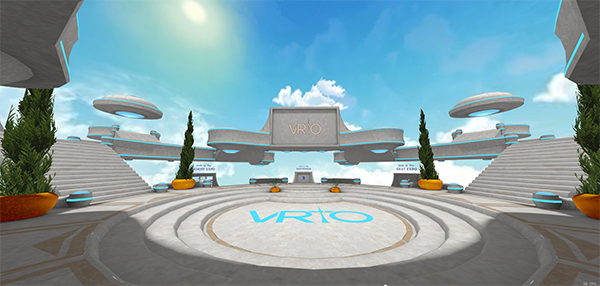 We have listened to our speakers, attendees, and community in preparation for the conference and have chosen to use the June 6-8th as an onboarding launch event. Here, ticket holders will get 'suited up' and explore our virtual world and network with other international community members.
Then through mid-July, VRTO will host a series of broadcast and interactive sessions that will be streamed or can be accessed through desktop, mobile or VR, depending on your ticket access type (Streaming of Pro Pass).
Working with our accessibility officers and experts, we will ensure improved accessibility to the widest possible audience, and foster important exchanges to help guide the industry forward, building on what we and our partnering platforms collectively learn and update in the interim.
We thank you for sticking with us as we build out a show that will offer improved accessibility and foster important exchanges to help guide the industry forward, building on what we collectively learn in the interim.

---
Key discussion tracks include:
Virtual Humans | The Spatialized Web | Game & Experience Design | The Future of Work | Education | Climate and Ecology | Accessibility and Communications | Marketing | Retails and Commerce | Business and Enterprise | Law, Ethics, Privacy | Autonomous Vehicle Systems | and more...
---
Featuring thought leaders from the largest Visual Effects companies in the world who have collectively won multiple Academy Awards and worked on such projects as Star Trek, Marvel's The Avengers, and Lord of the Rings.
And this year we will be featuring a special summit on Accessibility!
We're Pleased to Announce a Sample List of Thought Leaders that will be Contributing to #VRTO2020:
Follow the Meetup for Updates, Orientation Sessions, Networking, and exclusive activities to unlock Ticket Discounts
---
This conference is for you if you are a...small business owner, investor, employer, activist, privacy advocate, lawyer, experienced developer, game designer, neuroscientist, real estate agent, doctor, philosopher, researcher, marketer, educator, student, startup, psychonaut, astronaut, astrologer, inventor, early adopter, consumer, decision-maker, journalist, VC, storyteller, content creator, human being.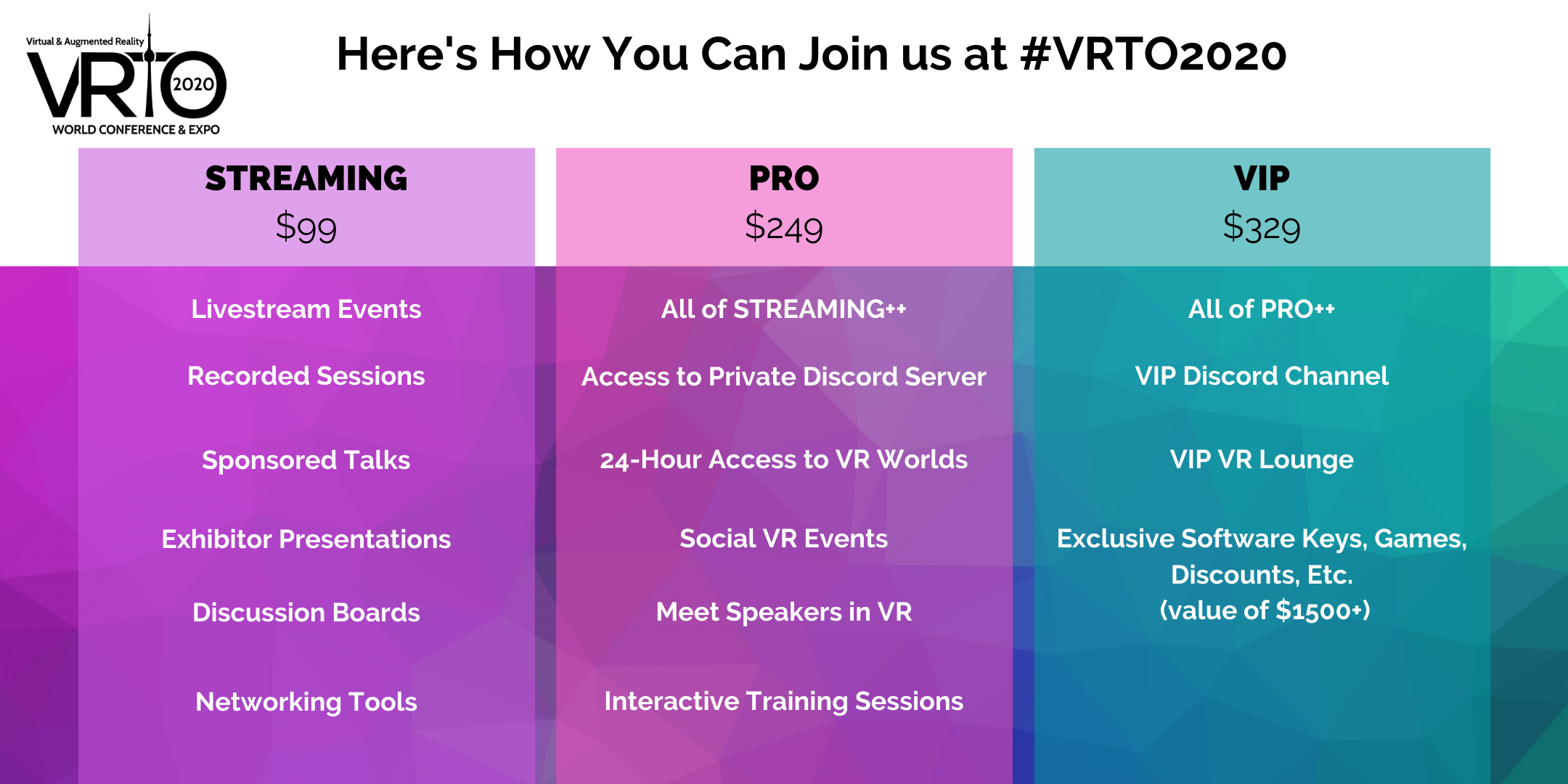 "If you can only go to one VR conference, this is The ONE!" - Brett Leonard, Director "Lawnmower Man," "Virtuosity," Co-Founder of Studio Lightship
VRTO has been featured in:


"Keram knows how to put on a hell of a show (the best when it comes to VR, in my opinion)"
Blake J. Harris, Author of History of the Future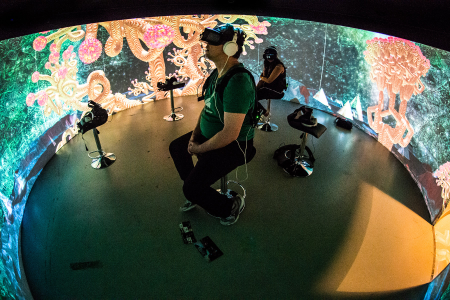 "VRTO is Still the Industry's Weirdest, Most Relevant Conference" ~ FORBES
Visit the official site for schedules, speakers and events and much more:
https://Conference.VirtualReality.to

---
Frequently Asked Questions:
Are there ID requirements or an age limit to enter the event?
10+ for daytime events. 19+ for industry and press invite-only evening


What is the refund policy?
No refunds, however tickets can be transferred by special request. Upgrades and changes can be done for the difference in cost and pending availability.

Email us to make this request.


The name on the registration/ticket doesn't match the attendee. Is that okay?
You must show proof of purchase, and the name/title of the original purchaser will be checked off. It is ok if it does not match attendee name, provided the above to items are provided/available. ID and contact information will be required in the event that your name does not match


Does each ticket need to be registered individually?
Conference and VIP passes will have registered name badges

will have registered name badges. You can update the information on each ticket in your order (like name, email address, etc.) by clicking the edit link on your order on the

Tickets

page.

When I attempt to purchase my ticket - it asks for a TAX ID number, but it isn't being accepted, what should I do?
The number you enter should total 15 characters and may include letters and number (for eg. RC or RT)


The system is not accepting my American Express credit card:
Please enter the 4 numbers on the front of the card (not 3 from back)
I have a promo/discount/coupon code, how do I apply?
Below the ticket types is text ("Enter promotional code") which brings up a box to enter a code, enter here & press "Apply" button. On the mobile site it is at the top, on the app & desktop site it is below






- Promo code on Mobile Devices
Date and time
Location
Refund policy
Organizer of VRTO 2020 Virtual Reality & Augmented Reality World Conference