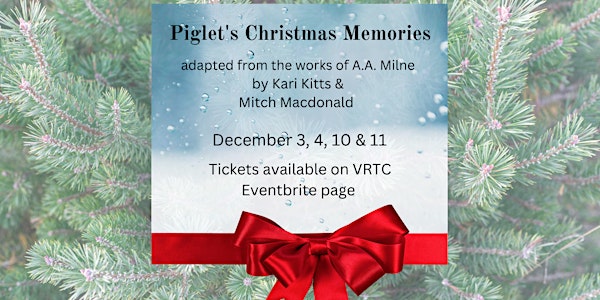 VRTC presents Piglet's Christmas Memories presented livestream via Zoom
Tune in to our original story by Kari Kitts and Macdonald, based on the classic characters by beloved author A.A. Milne.
Refund Policy
Contact the organizer to request a refund.
Eventbrite's fee is nonrefundable.
About this event
It's the perfect holiday treat for all ages, join us for our original holiday tale based on the beloved Winnie the Pooh characters created by A.A. Milne.
VRTC brings A.A. Milne's classic work comes to life in a festive way with Piglet's Christmas Memories. This world-premiere adaptation will have live virtual performances on December 3rd, 4th, 10th and 11th. Interested parties can learn more about the show and book or purchase tickets by visiting the Eventbrite page at https://www.eventbrite.com/e/447080448657
A mommy can find herself juggling many plates in the lead-up to Christmas. Coordinating dance rehearsals, mailing presents, planning and making elaborate meals - it is more than a full-time job. And for little Zebby, it means feeling a little lost in the shuffle. But he is introduced to the whimsical world of Winnie-the-Pooh and his friends in the Hundred Acre Woods, learning about their efforts to plan their own Christmas celebration. And as they navigate the highs and lows of putting together the party, Zebby realizes what matters most to him during the holiday season.
Piglet's Christmas Memories is a perfect first show or first virtual show for audiences young, old or in between looking for some laughter and holiday heartwarming entertainment. The show is live-streamed into your location bringing holiday cheer to audiences in the Northern Virginia area, the Carolinas, California, Tennessee and beyond. Ticket purchasers will receive link to watch the show two hours or 30 minutes before showtime, depending on the time of the ticket purchase.
Staying safe and sound inside provides a much-needed reprieve from so many of the stresses of our current day and age. A live virtual theatre performance allows you to enjoy the arts from your own home or homes - whether for a date night, a way to spend time with friends or just enjoy something for yourself, live virtual theatre experience is always a fun treat. Join us for VRTC's production of Piglet's Christmas Memories. It features performances by Kari Kitts, Mitch Macdonald, Zebulon Rothstein, Gideon Rothstein, Rachel Rhodes, Gene Strohl, Nicki Barnes and Toni Young. Piglet's Christmas Memories is written and directed by Kari Kitts and Mitch Macdonald. Performances are: Saturday, December 3rd at 8:30pm EST/5:30pm PST; Sunday, December 4th at 4:00pm EST/1:00pm PST; Saturday, December 10th at 8:30pm EST/5:30pm PST; and Sunday, December 11th at 4:00pm EST/1:00pm PST. Tickets are available for all performances and cost $10 on sale online at the Eventbrite page at https://www.eventbrite.com/e/447080448657
The Virtual Repertory Theatre Collective was founded on December 29, 2020. We are a fully virtual, bicoastal theatre company. We exist to provide a safe place for performers to work, to empower actors with creative input and to use the new technology tools to deliver art to the people. We are interested in challenging the status quo for what it means to be a theatre, how actors choose their work and what theatre in the 21st century looks like.