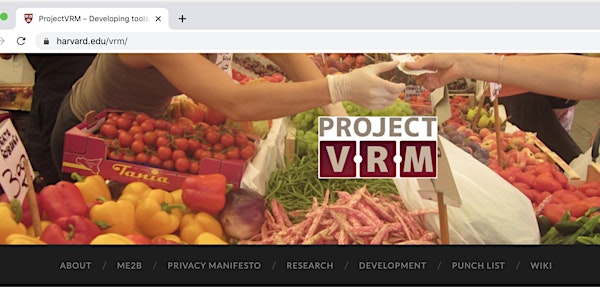 When and where
Location
Computer History Museum 1401 North Shoreline Boulevard Mountain View, CA 94043
About this event
This VRM Day will also host the November salon in the Ostrom Workshop's Beyond the Web series, hosted by Doc Searls and starring Roger McNamee.. Respected for decades as an investor, musician, tech guru, philanthropist, and mentor to entrepreneurs—most notably Mark Zuckerberg of Facebook—Roger has made big waves recently with his bestselling book, Zucked: Waking up to the Facebook Catastrophe.
The title of his talk is Saving us from Big Tech: the Gen Z Solution
VRM Day is also when and where we gather to talk about what we're up to and what we have planned—and to prepare for the 35th IIW, the world's most leveraged conference, which follows over the next three days at the same location. ProjectVRM was born out of IIW in 2006, and has been present there ever since.
VRM Day 2022b (this one) will be on Monday, 14 November 2022, and IIW will run from Tuesday to Thursday, 15 to 17 November.
The location, as always, is the Computer History Museum in Mountain View, California: the heart of Silicon Valley.
On the agenda, as always, is who is up to what.
Here is the schedule outline, which we will need to fill in. If you have anything to present, please let Doc Searls know (he's doc at searls dot com). Note that times are for when things start, not how long each will take.
9am Introduction and greetings
9:30am —
10am —
11am — Beyond the Web Salon with Roger McNamee
12:30 — Lunch Break
2:00 pm to close — Presentations and discussions
_________