Description
DESCRIPTION
Start your journey as a VR creator! In just 3 short days you'll learn how to build a VR experience from scratch using the Unity game engine. You'll get to work directly with instructors, hear from two industry experts, and meet the local community. Whether you're exploring a career in VR, want to prototype an idea or just want to learn something new, this workshop will equip you with the key skills to start creating.

WHAT'S INCLUDED:
• 2 Days of Intensive Skills Training & Networking Dinner
• HTC Vives & Oculus Rifts for Project Testing
• Access to Work with Instructors one-on-one
• One Week Pass to Upload SF or Upload LA
• Healthy Lunch & Refreshments

THE WEEKEND SCHEDULE
Friday, July 28th (6:30pm-9pm)
6:30pm: Dinner, drinks and play VR games in our Holodeck Rooms
7:00pm: VR Weekend Talk
7:20pm: Icebreaker
7:30pm: Intro to the VR Industry: history, design contraints, how VR works
8:00pm: Intro to Unity | Building your first VR Experience & Selecting your project
9:00pm: Light drinks and hanging out then we're done for the night! Get some rest for a big day tomorrow!
Saturday, July 29th (10am-6pm)
10:00am: Meet and greet and play VR games in our holodeck rooms
10:30am-12:30pm: Learn to make your first VR game: Shooters Game, Debugging Methods
12:30pm-12:50pm: VR Weekend Talk
1:00pm: Lunch
2:00pm-6:00pm: Finish making your Shooters Game, Paper Prototyping, Create Challenges

Sunday, July 30th (10am-6pm)
10:00am: Doors open, Learning How to Learn on your own in Future
11:00am: Continue building Shooters Game and add on Individual Challenges, Showcase Work
1:00pm: Lunch
2:00 - 4:30pm: Game Development Process, VR Design Principles Analysis, How to Get Started on Your Own
4:30pm-6:00pm : Continue building challenges, Share your work, Game testing and playing in VR
MEET YOUR INSTRUCTORS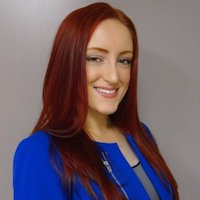 Tiffany Raber, Research Assistant, USC Insitute for Creative Technologies
Tiffany Raber is a Unity developer, 3D asset creator/designer, and biomedical illustrator. A recent graduate from the Biomedical Visualization Graduate Program at the University of Illinois at Chicago, Tiffany grew a passion for interactive medical education/simulation techniques in the AR/VR space. She believes that the advancement of MedVR will directly impact and transform the field, improving patient experience, surgical training, science education, and overall user health. Currently, Tiffany is a Visiting Research Assistant, working in modeling and simulation in VR, at The U.S. Army Research Laboratory West, located at USC's Institute for Creative Technologies.
Darius Clarke, Metaverse-Ographer, Serious Games Association
Darius Clarke is an Software Programmer and High School Software Development Teacher. He created a simulation for a university research project that allowed high school students to explore and compare 3D paths of simulated paper airplanes. He also supports the Serious Games movement, helping with conferences. Recently he has been exploring Virtual Reality's possibility for not just being "fantasy vision" but enabling its "X-ray vision" power to help our youth see the invisible forces that exist around us, continually shaping and reshaping their lives and ours.



Interested in a different kind of VR/AR workshop?
Let us know with this quick survey!
Keywords:
virtual reality, unity, unreal, workshop, VR, augmented reality, mixed reality, VR workshop, Unity VR workshop, Unity VR, HTC Vive, Vive, Oculus, Oculus VR, HTC, Playstation, VR Experience, virtual reality workshop, unity workshop, hololens, Upload, UploadVR, Upload SF, Upload Collective, VR Training, Unity Training, Coding, Programming, Unity Development, Unity Development Workshop, OculusVR