Actions and Detail Panel
VR NOW Con Business Mixer
Mon, February 13, 2017, 3:30 PM – 7:00 PM CET
Description
Half day conference and networking event for companies and corporates who want to explore the opportunities of Virtual Reality – as a technology, as a platform, as a medium.
Talks, presentations, exhibitions, moderated discussion and VR try-out area.
Funded by: Medienboard Berlin-Brandenburg
Featured exhibitor: YONDR - Immersive Media Agency
---
PROGRAM
15.30 OPENING
16.00 - 16.20 KEYNOTE
Discovering the business opportunities of Virtual Reality
Sarah Kinga Smith and George Goldman - Reverse Engineering Studio
16.20 - 16.45 PRESENTATION
Introducing Microsoft Volumetric Studio: How to produce professional holographic video for immersive experience on any device
Thomas Heigl - Industry Lead Media Germany Microsoft
16.45 - 17.15 BREAK

17.15 - 17.30 TALK
From Strategies to plannning and budgeting: How to bring reality to Virtual Reality
Brett Leonard - Producer and Chief Creative Officer at Virtuosity VR
17.30 - 18.15 PANEL
Bringing it all together: How to finance, produce and distribute VR content for the masses
Adina Popescu - VR Director, Snowblack and Virtuosity
Nikolas Samios - CIO at German Startups Group
Hervé Fontaine - Vice President Virtual Reality B2B and Business Development at HTC Vive
Marcus Kühne - Strategy Lead Immersive Technologies at AUDI

The HOST: Daan Kip - VR DAYS / VR BASE Europe
---
VR TRYOUT AREA
---
MEETING AREA
---
TARGET GROUP
Developers with industry applications. Developers with technology-to-product approach.
Investors, producers, corporates and companies looking for VR experts.
---
TICKET-SYSTEM
VR NOW Con Business Mixer tickets are available for 99,- EUR net until January 20, 2016.
Late Bird tickets are on sale up until the event starts.

Attendees of the VR NOW Con on November 16, 2016, in Potsdam get a 25% discount (the code is sent via Email to all attendees).
Member companies of the Virtual Reality e.V. Berlin-Brandenburg get a 50% discount (the code is available through the Newsletter).
Members of the VR Business Platform Berlin-Brandenburg get a 30% discount (the code is available through direct mailing).
Accredited EFM MARKET BADGE Holders: A limited number of seats will be reserved for Market Badge holders. Access on availability - first come first served. For Market Badge holders no pre-registration is needed.
---
KEY FACTS

DATE: Berlin, February 13, 2017
TIME: 4-7pm
DOOR: 3.30pm
GOAL: 150 attendees with a business goal in VR

Drinks and Snacks included
---
Follow us on Facebook, Twitter and LinkedIn to stay up to date!
The VR NOW Con brings new impulses to the medium and boosts international VR development and business communities. Let's learn from and connect each other to build the future of VR together. The time is NOW!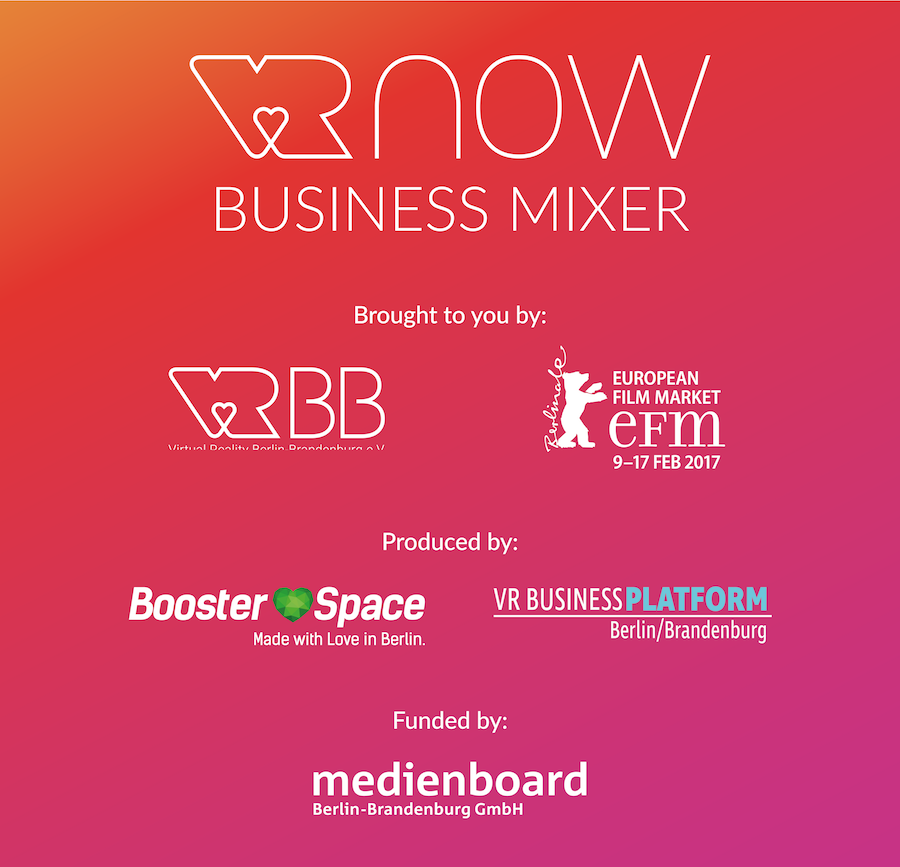 Supported by: